 It has been one wild ride this season for interim basketball coach David Padgett. The 33-year-old started off the season as an assistant coach to Rick Pitino for the Louisville Cardinals, but once September rolled around, the FBI investigation involving five-star recruit Brian Bowen, Pitino, and athletic director Tom Jurich saw the latter two placed on administrative leave before being fired.
The firing of Pitino saw Padgett take over the head coaching role on an interim basis in late September, just a couple of weeks before Pitino was fired officially. It was announced that Padgett will not be returning to the Cardinals as their head coach.
Up And Down Season
With the departure of star guard Donovan Mitchell to the NBA Draft as well as the team choosing not to allow Bowen to play, despite being cleared of any wrongdoing by the FBI, it was going to be difficult trying to get things where the Cardinals wanted to be. They had a decent core returning led by Deng Adel, Anas Mahmoud, Quentin Snider, and Raymond Spalding but adjusting to the new coach so late in the game kinda made life harder for the Cardinals.
They started the season just ranked inside the top-20 at 16 but back-to-back losses early int he year to Purdue and Seton Hall knocked them out of the rankings for what would be the remainder of the year. They went 10-3 in the non-conference and had a strong start to conference play going 5-1. They finished conference play in a bit of a rut though, losing 8 of their last 12.
One of those losses came at home to number one Virginia where a win would have given the Cardinals a massive resumé booster for their NCAA Tournament hopes. The Cavaliers cut the deficit to two with 0.8 seconds left before Deng Adel tried running down the baseline on the inbound which was not allowed, causing a dead ball turnover. Ty Jerome found De'Andre Hunter who hit a three at the buzzer to break Cardinal hearts.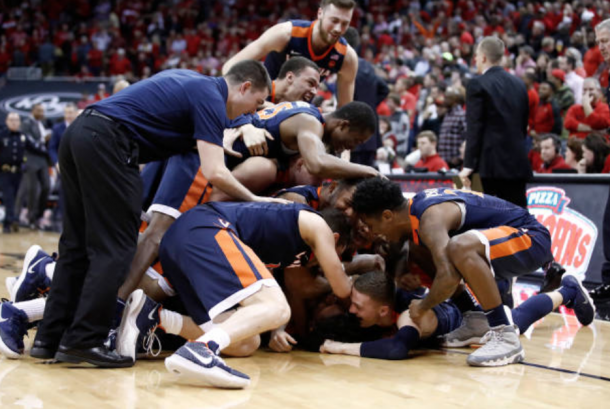 Virginia trounced the Cardinals in the ACC Tournament and despite 20 wins, was not enough to reach the NCAA Tournament. The Cardinals were seeded second in the Baylor region for the NIT. They won their first two games before losing to Mississippi State.
Padgett Speaks
"I don't live in a bubble," Padgett said at a news conference on Wednesday afternoon. "I know the chatter about what was going on. It wasn't a surprise. ... You know it's coming. Until you actually hear it, it's hard to set in. I'm going to walk out of this room and hold my head high because I gave this program and these players everything I had. I gotta focus on what's next for me," Padgett said. "Right now I don't have an answer for that."