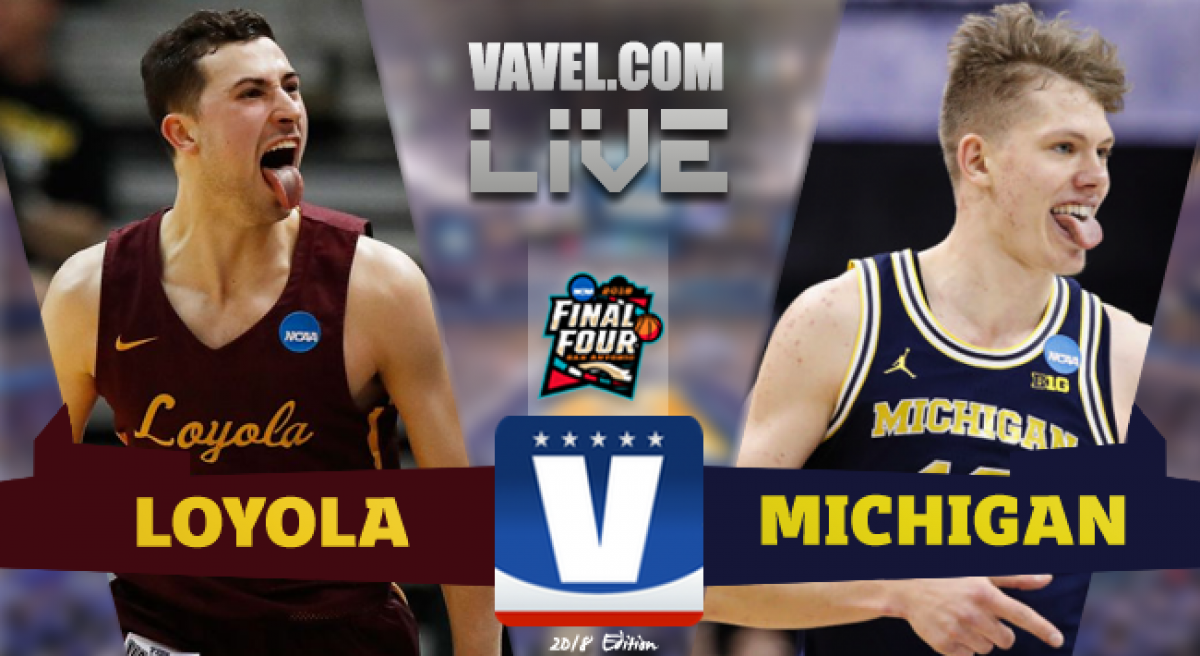 In a few moments, we will share the Loyola Ramblers vs Michigan Wolverines live starting lineups, in addition to the latest information that surges from the Alamodome Stadium. Do not miss a detail of the match with the live updates and commentaries of VAVEL.
Michigan advanced to the Final Four after defeating Florida State, 58-54. This Will be the eight time that the Wolverines dispute a Final Four game. The last time was in 2013. Today's clash can be the perfect scenario for the German Moritz Wagner who averages 14.3 points per game.
Loyola's key player is Ben Richardson. The senior's performance was essential for the Ramblers to win the regional title against Kansas State as he scored 23 points in what was his best collegiate game.
The game will be played at the Alamodome stadium in San Antonio, a historic venue. This stadium was the pavilion of the San Antonio Spurs from 1993 to 2002. It hosted the 1996 All-Star and has also hosted several NCAA Final Four. The pavilion has a capacity of 20,662 spectators but it once hosted 39,000 fans for a Spurs' playoff game.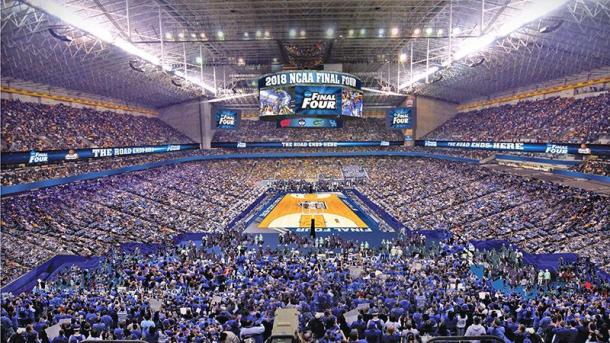 Michigan leads the all-time head-to-head series 2–1. The last time they faced each other was way back in 1969 and Loyola beat Michigan 112-110.
This promising game will be played at the Alamodome Stadium (San Antonio, Texas) and it is scheduled to tipoff at 6:59 pm.
Great defense by Loyola forces a turnover on the game's first possession.
Krutwig misses the game's first shot.
Matthews cans a three to give Michigan a 3-0 lead.
Krutwig with a layup off the glass for the Ramblers. 3-2 Michigan.
Turnaround by Townes goes. 4-3 Loyola.
Custer misses his first shot from long distance. Still 4-3 Ramblers.
Michigan with their second turnover of the game. Loyola gives it right back.
Custer misses this time from three. 4-3 Loyola.
Wagner from the top of the key to give the Wolverines a 6-4 lead.
Foul on Simpson of Michigan. We have come to the first media timeout. 6-4 Michigan with 15:43 left in the first half.
Beautiful pass from Custer to Jackson, but he misses the layup. 6-4 Michigan.
First foul on Loyola called on Ben Richardson.
Wagner misses in the paint.
Difficult shot by Townes is rebounded by Wagner. 6-4 Michigan.
Wagner with his second basket of the game off of a putback. 8-4 Michigan.
Matthews with an airball on the turnaround from the left block.
Matthews is starting to assert himself on the offensive end. A layup and a foul on Loyola. Matthews misses the free throw. 10-4 Michigan.
Matthews misses the three and Ingram rebounds. 10-4 Michigan.
Custer with the steal, but Loyola gives it right back. 10-4 Michigan.
Wagner with the reverse layup to give Michigan a 12-4 lead with 12:38 left in the first half. Loyola calls timeout.
Jackson draws a foul on Duncan Robinson and hits two free throws to stop the Michigan run. 12-6 Wolverines.
Teske enters for Wagner and picks up a foul, but offensive goaltending is called on Loyola. 12-6 Michigan with 11:56 left in the first half.
Jackson's jumper from the left block misses, but Michigan misses on their end. 12-6 Michigan.
Jackson with a beautiful layup off glass to cut the Michigan lead to 12-8.
What a shot by Townes as the shot clock is running out! Did he get it off in time? Replays showed he did and the officials confirm it. 12-10 Michigan.
Wagner rebounds a missed three and puts it off the glass. 14-10 Michigan.
Poole misses off of a Loyola turnover. A foul on Townes and the hero of Michigan's second-round win over Houston hits one of two free throws. 15-10 Michigan.
Jackson draws Teske's second foul and hits both from the line. The Michigan big man is on the bench. 15-12 Wolverines.
Cameron Satterwhite draws a foul on Poole and Loyola seems to be settling in on the offensive end. 15-12 Michigan with 7:53 remaining in the first half.
We are back as Jackson hits one of two free throws. 15-13 Michigan.
Richardson misses a layup. 15-13 Michigan.
Nice block by Cameron Krutwig on Matthews and Michigan misses on the ensuing possession.
Krutwig with a layup off a gorgeous feed from Townes and the game is tied at 15.
Another Michigan turnover leads to a Loyola turnover who steals it back and Krutwig draws a foul on Matthews. He hits both free throws and the Ramblers take a 17-15 lead.
Matthews fallaway is no good and Townes drives to bank it in. Nine in a row for Loyola. 19-15 Ramblers.
Wagner with another stickback off of a missed shot. 19-17 Loyola.
Jackson rebounds his own miss, drives inside and scores. 21-17 Loyola.
Wagner continues to punish Loyola on the offensive glass. Mind you that Krutwig is on the bench for rest. 21-19 Loyola.
Custer draws a foul on Zavier Simpson. He'll get two free throws when we return from the latest media timeout. 21-19 Loyola with 3:40 left in the first half.
Loyola allows 62.4 points per game, good for fifth in the nation. Michigan is on pace for maybe 50. Custer makes both free throws. 23-19 Ramblers.
Wagner misses a three, Townes rebounds, but misses the layup. 23-19 Loyola.
Yet another turnover for Michigan, their eighth. 23-19 Loyola.
Townes with an exquisite reverse layup off a great pass from Krutwig. Goaltending on Michigan. Wolverines call timeout. Loyola leads 25-19 with 2:46 left in the first half.
Foul on Custer. Michigan still out of rhythm offensively. 25-19 Loyola.
Abdur-Rahkman with a long three that is no good. Townes cleans up the glass for Loyola.
Lob into Krutwig, but he travelled. Sixth turnover on Loyola, but they still lead 25-19.
Matthews drives hard to the lane, scores and hits the free throw. Foul on Jackson. 25-22 Loyola.
Townes wild attempt is blocked, but Duncan Robinson misses a triple. Ball back to Loyola. 25-22 Ramblers.
Hook shot by Krutwig is good. He has eight. 27-22 Loyola.
Krutwig picks up a foul as Wagner drives to the hoop. The Michigan forward misses the front end of a one-and-one. 27-22 Loyola.
Ingram with a putback off of Custer's miss as time expires on the half. Loyola leads 29-22 at halftime. We will return shortly with the second half.
Some numbers from the first half: Michigan is shooting just 29 percent from the field while committing eight turnovers. Mo Wagner is keeping the Wolverines in the game with 11 points and 11 rebounds.
Loyola is hitting on 41 percent of their field goals while getting balanced scoring. Jackson, Townes and Custer have eight each. The Ramblers are 24-0 when leading at halftime this season.
We are about ready to begin the second half!
Loyola with the first possession of the second half. Krutwig scores inside and draws a foul on Wagner. He completes the three-point play. 32-22 Ramblers.
Wagner with an emphatic dunk! 32-24 Loyola.
Richardson misses from just inside the arc. 32-24 Loyola.
Simpson rushes his layup, but Krutwig steps out of bounds on the next possession. Back to Michigan. 32-24 Loyola.
A pair of misses from deep for Michigan and a turnover for Loyola. 32-24 Ramblers.
Robinson with a triple. Richardson answers with a driving layup. 34-27 Loyola.
Townes misses a layup off of Michigan's ninth turnover. 34-27 Loyola.
Custer with another layup for Loyola. 36-29 Ramblers.
Shot clock violation on Michigan as Simpson's three is not even close. Timeout on the floor. 36-29 Loyola with 15:56 left in the game.
Wagner forces a Loyola turnover. He is Michigan's only chance. As I say that, Matthews scores. 36-31 Loyola.
Custer with Loyola's first three of the night. 39-31 Ramblers. The Missouri Valley Player of the Year is starting to feel it.
Custer with another jumper, this one inside the arc. 41-31 Loyola.
How did Matthews get that to go? It'll do. A dozen for the Kentucky transfer. 41-33 Loyola.
Jackson draws a foul on Robinson. Turnover on the following possession. Still 41-33 Loyola.
Matthews is fouled by Lucas Williamson. He makes one of two. Michigan is just 3-7 from the line. Keep an eye on that. 41-34 Loyola.
Brilliant move by Jackson. He scores off glass and is into double figures with 10. 43-34 Loyola.
Jaaron Simmons with a three to bring Michigan to within six. 43-37 Loyola.
Custer draws a foul on Simmons. Timeout on the floor. 43-37 Loyola with 11:25 remaining.
Custer hits both free throws. He has 11. Loyola is 11-12 from the line. 45-37 Ramblers.
Poole with a bank shot for Michigan. 45-39 Loyola.
Robinson nails a three off an offensive rebound. Timeout by Loyola. 45-42 Ramblers with 10:02 left to play.
Two chances missed by Loyola, but Michigan misses a three of their own. 45-42 Loyola.
Krutwig drives, draws the contact and Wagner commits his second foul. The Missouri Valley Freshman of the Year misses the free throw. 47-42 Loyola.
Robinson's three is in and out. 47-42 Loyola.
Krutwig misses a hook shot, but Simmons travels. Loyola still leads 47-42.
Both teams miss threes. 47-42 Loyola.
Poole off the glass with the left hand. 47-44 Loyola.
We have reached the under eight timeout. 47-44 Loyola with 7:31 left to play.
Wagner three ties the game. 47-47.
Back-to-back turnovers by Loyola. 47-47.
Richardson fouls Poole. He misses the field goal, but makes both free throws. First lead for Michigan since early in the first half. 49-47 Wolverines.
Wagner with a beautiful feed to Matthews. He converts the layup. Timeout Loyola. 51-47 Michigan.
Four straight turnovers for Loyola, but Wagner double-dribbles. 51-47 Michigan.
Poole misses a three, but like in the first half, Wagner cleans up on the offensive glass. He's fouled. 53-47.
Wagner converts the free throw. 54-47 Michigan.
Krutwig with the hook shot off glass. Big shot for Loyola. 54-49 Michigan.
Wagner misses from beyond the arc. Loyola misses a three, but they retain possession. 54-49 Michigan.
Krutwig can't convert this time and Richardson fouls Simpson. 54-49 Michigan.
Wagner is taking over now. He has 21. Michigan leads 56-49.
Nice fake by Richardson. He gets free and sticks the jumper. 56-51 Michigan.
Wagner again! He is sizzling. 59-51.
The teams trade baskets. Michigan leads 61-53 with 1:39 left.
Matthews with the jam as Michigan breaks the Loyola press. 63-53 Wolverines.
Custer off the glass. He has been terrific in thw second half with 11 of his 13. 63-55 Michigan.
Abdur-Rakhman is fouled. He makes both free throws. Michigan leads 65-55.
Custer misses a reverse, but Krutwig is there for the follow. 65-57 Michigan.
Loyola forced to foul. Abdur-Rahkman splits a pair from the line. 66-57 Michigan.
Fans starting to sense the inevitable for Loyola. Robinson cans both free throws. 68-57 Michigan.
Porter Moser empties the bench. Robinson splits his free throws. 69-57 Michigan.
That will do it. So Michigan has advanced to their fourth national championship game in school history and first since 2013. They will face the winner of the second semifinal between Kansas and Villanova.
And of course, a tip of the hat to Loyola. Despite the loss, the Ramblers won a school-record 32 games and provided us with memorable moments that we won't soon forget. We will forever remember this team and their run as well as Sister Jean, the real star of the show, for as long as the Tournament is played.
This is John Lupo signing off. Stay tuned for Kansas vs Villanova. Good night.
Welcome to VAVEL USA's LIVE coverage of the 2018 Final Four match between the Michigan Wolverines and Loyola Ramblers! My name is Alan Nunez and I'll be your host for this game. We will provide you with pre-game analysis, roster updates, and news as it happens live here on VAVEL.