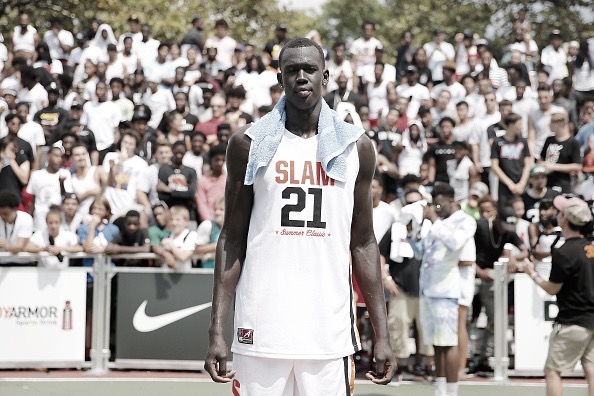 Five-star Center Makur Maker has announced his commitment to Howard University in Washington, DC.
According to the ESPN database, Maker is the highest-ranked prospect to commit to a historically Black college or university since 2007.
Despite receiving offers from UCLA, Kentucky and Memphis, Maker opted to commit to Howard.
I was the 1st to announce my visit to Howard & other started to dream "what if". I need to make the HBCU movement real so that others will follow. I hope I inspire guys like Mikey Williams to join me on this journey. I am committing to Howard U & coach Kenny Blakeney #MakerMob

— Makur Maker (@MakurMaker) July 3, 2020
Maker called out sophomore sensation, Mikey Williams, hoping that his commitment impact Mikey's decision when choosing a school.
On your side my boy let's shock the world!!! @MakurMaker https://t.co/XJ4JrgFmTH

— Mikey Williams (@619PRESIDENTIAL) July 3, 2020
The Kenyan-Born averaged 14.7 points and 7.9 rebounds while shooting 73% on 2-pointers last spring and summer with Dream Vision on the Adidas grassroots circuit.
Maker's commitment is spectacular exposure for HBCU athletics & hopefully will set the trend for other top tier recruits to start heavily considering HBCUs.