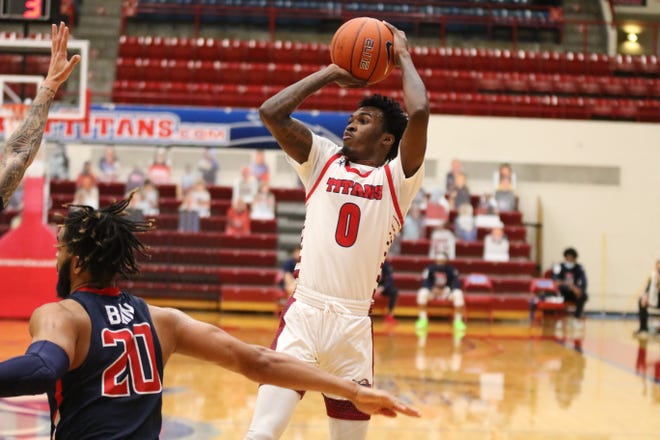 The college basketball postseason kicked off with the first conference tournament as the Horizon League kicked things off. Three of the four home teams won, the conference's leading scorer had a historic night and the quarterfinal matchups were determined,
Antoine Davis scored 46 points, three off of the program record, to lead the fifth-seeded TItans to a quarterfinals matchup with defending champion Northern Kentucky. The league's leading scorer at 23.2 points per game made 10 three-pointers and scored 24 in the first half.
Bul Kuol added 14 and Chris Brandon had 10 points and 13 rebounds for Detroit Mercy (12-9) as the Titans outrebounded Robert Morris (4-15) 34-21. Khaleil Spear led the Colonials with 22 points while Jon Morris had 17 and Kam Farris 15 as Robert Morris' first season in the league comes to an end.
Michael Akuchie led five Youngstown State players in double figures as the Penguins advanced to the quarterfinals against third seed Oakland with a victory over the Flames. Akuchie had 16 points and 10 rebounds. Naz Bohannon had 15 points and six assists.
Teyvion Kirk led Illinois-Chicago (9-13) with 13 points and seven rebounds, but also had seven turnovers. RayQuawndis Mitchell added 12 points and seven rebounds while Maurice Commander had 11.
Te'Jon Lucas led the eighth-seeded Panthers with 22 points while DeAndre Gholston added 20 as Milwaukee (9-11) will face second seed Wright State in next Tuesday's quarterfinals.
Jaylen Minnett led IUPUI (8-10) with 23 points. Elyjah Goss scored 20 points and grabbed 17 rebounds while Marcus Burk had 12 as the Jaguars fell to 1-4 against Milwaukee.
The Mastadons were the only lower-seeded team to win in the first round as Jalon Pipkins matched his career-high with 21 points to lead Purdue Fort Wayne (8-14) to a quarterfinal matchup against top seed Cleveland State. He also banked in a three-pointer at the buzzer to force the second overtime.
Jarred Godfrey added 18 points and seven rebounds for IPFW. PJ Pipes led Green Bay with 27. Emmanuel Ansong had 18 points and seven rebouns, and Amari Davis added 18 with six rebounds as the Phoenix end their season at 8-17.