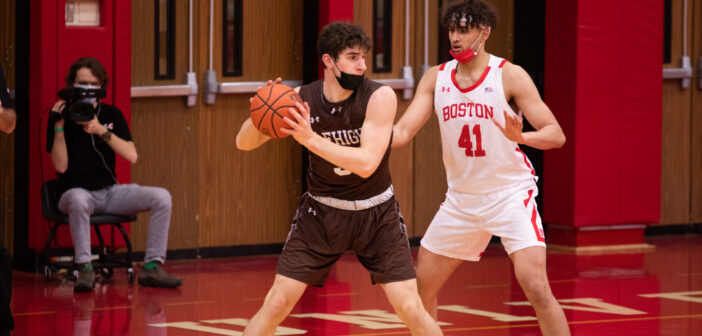 Walter Whyte led four players in double figures as seventh-seeded Boston University began defense of their Patriot League title with a 69-58 victory over Lehigh in their first-round game at Case Gym.
Whyte had 19 points while Sukhmail Mathon added 17, Javante McCoy 14 and Jonas Harper 10 for the Terriers (7-10). The hosts shot 55.5 percent from the floor as compared to 37.5 percent for Lehigh (4-11).
Whyte leads Boston U over Lehigh in sole first-round game
Lehigh scored the game's first four points, but neither team lead by more than that over the opening 12 minutes of the contest. There were six lead changes over the first seven minutes until Boston University took a lead they never relinquished.
Whyte's fast-break dunk gave the Terriers a 25-19 lead with three minutes remaining in the opening half, their largest lead of the game so far. After Lehigh cut the lead to 25-23, Boston University scored the last six points of the half to lead by eight heading into halftime.
A stel and monster dunk by Whyte gave the Terriers their largest lead to date at 56-42 with 6:19 left to play. After going up by as much as 18, Lehigh used a 13-4 to trim the deficit in half, but that's as close as they got as Boston University held on.
Marques Wilson led Lehigh with 19 points while Jeameril Wilson added 17 as the Mountain Hawks season comes to an end. Boston University travels to second seed Colgate in a rematch of last year's final, won by the Terriers.