Friday night's game between the Florida Gators and South Carolina Gamecocks promised to be a low-scoring affair with each team's ace on the mound.
It proved to be exactly that as Florida's Alex Faedo outdueled South Carolina's Clarke Schmidt in the Gators' 1-0 win in the series opener at McKethan Stadium.
Faedo steals the show
Coming into the game, Schmidt was third in the SEC with a 1.31 ERA, but it was Faedo who got the best of the Gamecocks' star in front of several major league scouts.
The Gators' junior righty tossed 8.2 scoreless innings, giving up just three hits while walking four and striking out nine to improve his record to 6-1.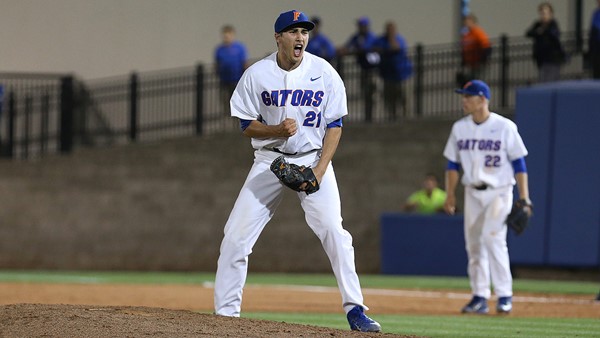 "The scouts don't really mean anything. I mean, they come to practice every practice so that's a non-factor anymore. But facing Schmidt, I knew it was going to be a close game," Faedo said. "Every run counts there. … He kept me in a good groove going back and forth, quick zeros, quick zeros".
Schmidt (4-2) gave up just the 1 run on 4 hits and 3 walks with 2 strikeouts over 5 1/3 innings before leaving with right forearm soreness.
Hicks, Bell combine to produce only run of game
Florida's lone run came in the bottom of the fifth when Christian Hicks smacked a 2-out double off the wall to left and Keenan Bell drove him home with a single up the middle.
That's all Faedo would need as he did the rest. He did have to wriggle out of a few jams.
Madison Stokes' led off the fifth inning with a double to right-center. He'd make it to third base after a pair of groundouts, but Dalton Guthrie hauled in Jacob Olson's short blooper for the final out of that frame.
The next jam came in the seventh when first baseman JJ Schwarz misplayed a soft chopper down the line, leaving runners on first and second with 2 outs. But Faedo got Danny Blair to ground out to second to escape the inning and keep Florida in front.
Faedo nearly goes the distance, Byrne saves win
One out away from his first nine-inning shutout, Faedo walked Alex Destino before coach Kevin O'Sullivan pulled the righty after 125 pitches.
Closer Michael Byrne came in and promptly got Stokes to fly out to end the game and pick up his seventh save of the season.
"It was just a heck of a ballgame. It was just another Friday night (type) game in this league," O'Sullivan said. "When you have opportunities to score, you've got to have your best at-bats and we scored with 2 outs and nobody on. … I thought we did a nice job. Even though the score was 1-0, I thought our at-bats were good against a really good pitcher."