The Florida State Seminoles have the chance to end the playoff hopes of the Wake Forest Demon Deacons. It seems to be a role reversal from what is normal in ACC football. Florida State already has two losses so a chance for the College Football playoff seems out of reach for them, while Wake Forest only has one loss and still has resume-building games with Louisville and Clemson left on the slate. As unrealistic as it may seem, Florida State has the opportunity this weekend to play spoiler.
Last Meeting
Last season, Kendall Hinton started for Wake Forest and the Demon Deacons gave Florida State a close game despite being heavy underdogs. Hinton was intercepted on the final drive in the end zone and Florida State was able to hold on to the 24-16 win.
John Wolford Improving
Junior quarterback John Wolford is getting better and better as the season continues on. Last week against Syracuse, even with poor weather from Hurricane Matthew, Wolford was solid both passing and running the football. His most eye-opening play was a long touchdown run on a designed quarterback draw. Wolford has made up for his lack of passing production by providing an added element as a dual-threat quarterback.
Deondre Francois Looks To Be The Guy In Tallahassee
Francois was a question mark to start the season. As a freshman, it was unclear as to how he would translate into the college game. All doubts seem to have vanished as Francois has 1,557 yards passing and nine touchdowns already this season and a quality victory over rival Miami.
Dalvin Cook Heisman Contender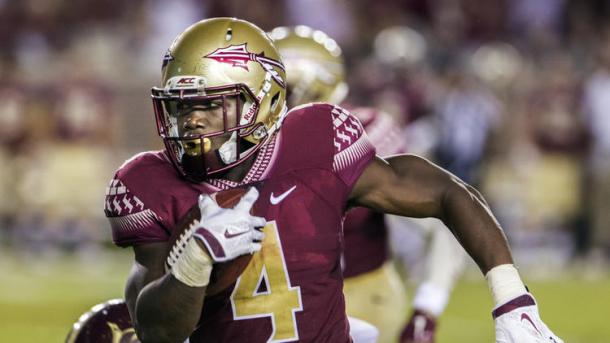 Mark Wallheiser/Associated Press
Dalvin Cook picked up right where he left off last season and is still in the Heisman running. He is already closing in on a thousand rushing yards and has tallied seven touchdowns this year. Although Louisville's Lamar Jackson seems to be the frontrunner for the trophy right now, Dalvin Cook's talent can't be ignored and should keep him in the running for college football's top honor this season.
Wake Will Need To Pass More
Amazingly, the Demon Deacons are 5-1 this season with just three passing touchdowns. The team has 13 rushing touchdowns and a few defensive scores that have made up for the lack of passing, but against potent offenses like Florida State, Wake Forest will need John Wolford to throw in what could be a high-scoring game in Tallahassee.
Prediction
The Florida State defense will make Wake Forest fall into 3rd and long situations often and the passing attack for the Deacons will not be productive enough to keep up with the Seminoles. Dalvin Cook will be solid and make another case for the Heisman trophy.
Wake Forest Demon Deacons 24, Florida State Seminoles 31