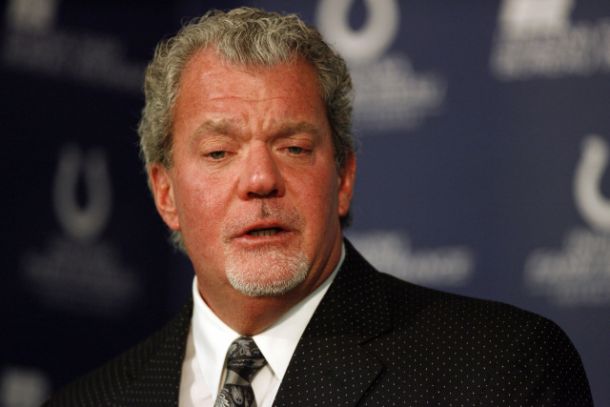 Indianapolis Colts owner Jim Irsay has been suspended six games and fined $500,000 after pleading guilty to one misdemeanor count of operating a vehicle while intoxicated.
The NFL announced Tuesday that Irsay violated the league's personal conduct policy. The suspension takes effect at 5 p.m. ET on Wednesday, and Irsay will be eligible to return after Indianapolis' game against the Houston Texans on Oct. 9.
Irsay admitted to a judge he was under the influence of the painkillers oxycodone and hydrocodone when he was arrested on March 16th near his home in the Indianapolis suburb of Carmel. Irsay is not eligible to attend any Colts games or practices and also cannot be present at the Colts' facility.
"I acknowledge the mistake I made last March and stand responsible for the consequences of that mistake, for which I sincerely apologize to our community and to Colts fans everywhere," Irsay said in a statement released shortly after the NFL announced the penalties. "Even more importantly, though, I am committed to do everything in my power to turn this whole experience into a positive event for myself, my family, and the community."
The fine matches the fourth-largest in NFL history and is the heftiest handed down by Goodell since 2007, when New England Patriots coach Bill Belichick also was fined $500,000 for his role in the infamous "Spygate" scandal.
"I have stated on numerous occasions that owners, management personnel and coaches must be held to a higher standard than players," Goodell said to Irsay in a letter, which was attached to the league's statement. "We discussed this during our meeting and you expressed your support for that view, volunteering that owners should be held to the highest standard."