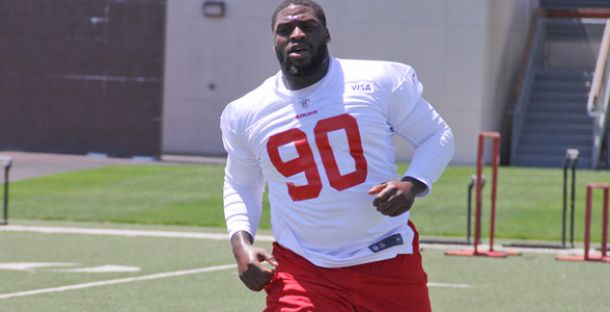 The 49ers have made more moves prior to the start of the 2014 NFL season. Both moves were expected to be made, as the team signed wide receiver Kassim Osgood and placed Glenn Dorsey on injured reserve with a return designation. Head coach Jim Harbaugh mentioned these likely moves on Bay Area Radio KNBR.
Osgood is primarily a special teams player, operating as a gunner. Osgood received some wide receiver snaps last season, but remains solely a special teams player. Osgood was very productive and was one of the players cut on Saturday, but was deemed likely to come back when the 49ers could make more roster moves.
Osgood is a two-time All-Pro and three-time Pro Bowl selection as a special teams player. He has played in 166 career games and recorded 45 receptions for 766 yards and five touchdowns, while also adding 134 special teams tackles during his 11-year career.
Glenn Dorsey being put on injured reserve with a return designation means the 49ers expect him to come back this season. The team cannot activate him until at least 8 weeks have passed, and Dorsey cannot practice with the team until at least 6 weeks have passed. The injury seemed to be a 3-4 month recovery period, and as we are 1 month since the injury, Dorsey has a return timeframe around November or December.
The 49ers will struggle defensively for the beginning of the season. The good news is, if Dorsey comes back fully healthy, he will be rested and ready to compete midway through the season. The hope is that linebacker NaVarro Bowman will do the same.