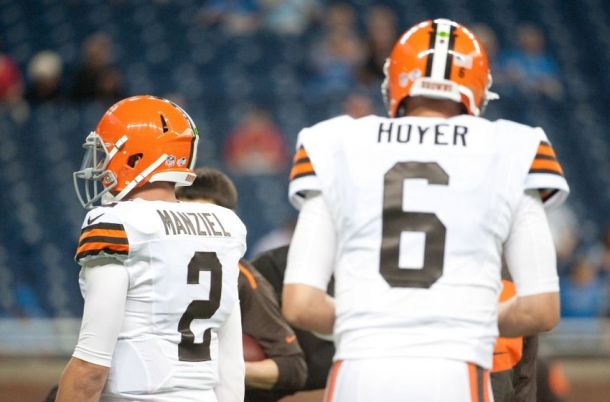 Cleveland Browns head coach Mike Pettine announced Wednesday that they will be starting veteran journeyman Brian Hoyer over rookie Johnny Manziel this Sunday against the Indianapolis Colts. The Browns have started Hoyer all season long and are still in the AFC playoff picture with a record of 7-5. This makes Hoyer's record as Cleveland's starter 10-5, which he gladly told reporters, "That's pretty good." He has had a roller-coaster season thus far, throwing for 3,056 yards with 11 touchdowns and 10 interceptions.

Hoyer has looked terrible the past two games, throwing five interceptions against the Atlanta Falcons and Buffalo Bills. During the blowout loss to the Bills, Pettine decided he has seen enough from Hoyer and put in rookie Johnny Manziel, who had a great drive that was capped off by the only way "Johnny Football" knows how to play football, scrambling for a touchdown. After the game, numerous fans and reporters were desperate to find out who will the Browns starting quarterback against the Colts. Pettine chose to stick with Hoyer, which is the right decision.

For the first time in a very long time, the Browns are in playoff contention towards the end of the season. Hoyer has looked impressive at times, including a game-winning drive against the New Orleans Saints. Why risk the entire season by starting a rookie who has sat on the bench all year? If the Browns started Manziel, the playbook would change significantly. Manziel is not the same type of quarterback as Hoyer. Manziel thrives on scrambling out of the pocket, while Hoyer stays in the pocket. Also, the receivers and offensive line are used to having Hoyer as quarterback. Once Manziel starts, they need to be alert for when he is rolling out, so they can run with him. Finally, can you imagine the amount of distractions the media will cause if Manziel starts? A team who is trying to make a playoff push will be annoyed with all of the Johnny Manziel hype.

If the Browns were eliminated from playoff contention, then they could start Manziel since there is nothing to lose. It is obvious he is the future signal-caller of the team since he was a first-round selection, and Hoyer is only a temporary starter. However, the Browns have a legitimate shot at the playoffs (sounds weird, right?) and should stick with their regular starters. However, if Hoyer has another bad showing against the Colts, it will be nearly impossible for Pettine to decide against the 2012 Heisman Trophy winner in Johnny Manziel.

Comment thoughts on who you think should start at quarterback for the Cleveland Browns!