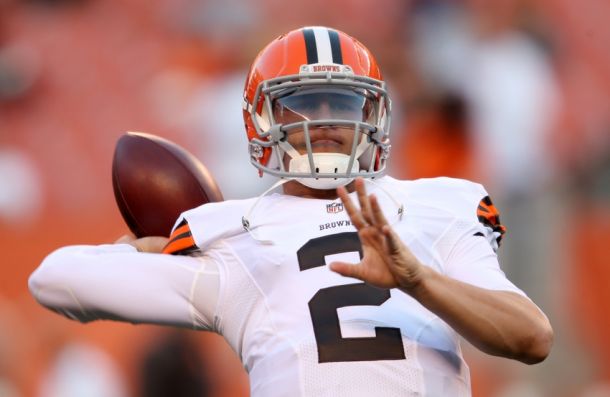 Johnny Manziel has made himself into one of the most polarizing figures in all of sports in recent years. First at Texas A&M, where he became the first freshman to ever win the coveted Heisman Trophy, and then in the NFL, where he continued to be one of the most talked-about people in the league despite his status as a backup quarterback.
He was drafted in the first round of the 2014 NFL Draft with the 22nd pick by the Cleveland Browns. Some thought he fell too low in the draft in light of his phenomenal college career, while others were still dubious that he couldn't overcome his off field activities and wondered if his style of play would transfer favorably against NFL defenses.
After unimpressive performances in each of his first two career starts, it would be easy to give up on the rookie from Kerrville, Texas. Manziel injured his hamstring in the second quarter of last Sunday's loss to the Panthers, and he will not start the Browns' season finale against the Ravens. He ends his inaugural pro season completing only 17-of-35 pass attempts for a meager 175 yards, zero touchdowns and two interceptions.
He received plenty of negative comments from the media around the country, and former NFL running back and current ESPN analyst Merril Hoge has been one of his harshest critics.
On a recent postgame show, Hoge said that Manziel has "sixth-round talent but first round hype," and that "whoever drafted [Manziel] in Cleveland, they need to be fired."
And Hoge wasn't done. He went on to rip Manziel to shreds, criticizing almost every aspect of his game.
"He's limited with his arm, he's limited with his overall understanding of the structure and here's the thing that's going to hurt him more than anything: his one strong, major overriding instinct to run. It won him a Heisman. It's what he gets rewarded for. It's what he does best, it's what he trusts. You'll never break that. To teach him and for him to learn, have all of those things he couldn't do today, it's just an uphill battle. It's never going to happen."
Those comments might seem accurate after watching Manziel play against the Bengals, but it needs to be understood that he was making his first career start. He was nervous, not as prepared as he should have been, and he doesn't have many weapons around him to be successful.
The same was said about Manziel when he was coming out of high school, where he shredded defenses at Kerrville Tivy throughout his career. Rivals.com rated him as only a three-star prospect coming out of high school, mostly because of his size and the uncertainty of whether or not he would be able to effectively scramble against college athletes.
Nonetheless, he committed to Texas A&M and redshirted his first year on campus. Again, the collective feeling among college football analysts was that Manziel wouldn't be able to scramble against the almighty SEC defensive schemes.
But Manziel's performance in College Station was one of the many times where he has proved his doubters wrong. He went on to be one of the most productive collegiate quarterbacks in the country, making the Aggies immediate SEC contenders despite being picked tenth in the conference preseason rankings in 2012.
A common theme throughout Manziel's football career is overcoming perceived shortcomings, and that is why people should not write him off just yet.
He admitted in a recent ESPN.com article that he did not take his first preseason serious enough, and that he was probably not prepared enough to compete at the professional level. But he also vowed to dedicate the upcoming offseason to improving himself, so he deserves some credit for that.
The sample size of Manziel's NFL career has been microscopic, and seven quarters of football is not near enough time to truly gauge his skills.
Give Manziel some time. He is undoubtedly an unorthodox quarterback, but that should not be held against him. Cleveland has missed time and time again on quarterback draft picks (Brady Quinn, Brandon Weeden, etc.), and maybe it is going to take a different type of signal caller to change the slope of the organization.
The Browns have lost ten straight games played in December and January, which is the longest such streak in the league. They are not a very talented team, but if they commit to acquiring some serious offensive pieces this offseason to support Manziel, he has a chance to be successful.
If they choose to give up on Manziel already, they would go back to Brian Hoyer, who hasn't been good. Or, if they choose to select another quarterback in next year's draft, they will be admitting they messed up and the process will start all over again, probably resulting in a negative outcome.
If the Browns truly want to escape the dismal image that they have, they need to take a few chances. And if there is any player who can overcome adversity and positively change an organization, it's Manziel.
He did it at Kerrville Tivy and Texas A&M, and he has what it takes to have success in Cleveland if given time.