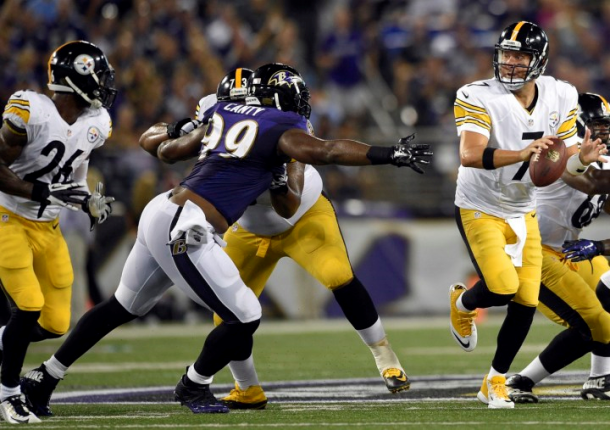 The Steelers entered their playoff matchup against the Baltimore Ravens without their All-Pro running back Le'Veon Bell which turned out to be the difference in the game. The Steelers running game led by newly signed veteran Ben Tate and rookies Dri Archer and Josh Harris could never get going which led to the offense sputtering. Without a run game, the Steelers were forced to turn to quarterback Ben Roethlisberger who was getting beaten up play after play by the Ravens pass rush. Elvis Dumervil and Terrell Suggs continually made plays in the backfield, so Roethlisberger never had time to throw to his favorite target in All-Pro wide receiver Antonio Brown.
The Steelers' offense was not the only part of the team that struggled, however. Their defense had very poor tackling and were constant victims of some questionable penalty calls by the officials. Joe Flacco had a ton of time to find his targets and Justin Forsett had major holes to run through. The Steelers pass defense and pass rush needs to improve next season if they want to be as good of a team or better than this year's.
The Ravens capitalized on Steelers mistakes, putting 30 points on the board. They look like a very dangerous playoff team going forward. They will travel to New England to take on the AFC's #1 seed in the Patriots next weekend in the AFC Divisional Round. They are only 3 wins away from winning a third Super Bowl. Unfortunately for the Steelers, their season is over. They finish with an overall record of 11-6. However, this year was a success for Pittsburgh as they snapped a 3 year streak of not winning the division. Also, the good news is that Le'Veon Bell will definitely be ready for the Steelers' next game. Too soon?