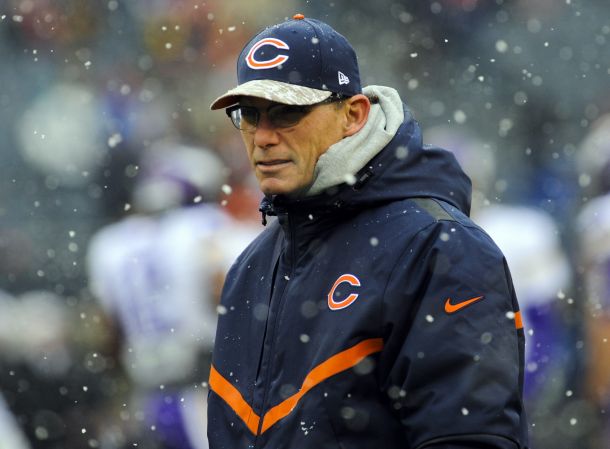 Joe Flacco had a great season, leading his team to the post-season and taking down the division winning Steelers. He battled in the NFL's best division and threw 27 touchdowns in Gary Kubiak's simple yet effective offensive system. Marc Trestman, on the other hand, did not find much success in Chicago this season. The architect behind the Bears high-flying offense in 2013, Trestman and the Bears couldn't get it together this year. Jay Cutler had issues with ball security and missed far too many throws on his way out of the Windy City. Trestman, however, is a very imaginative OC that should be a good fit for Joe Flacco. This will be the fourth OC in as many seasons for the Ravens QB, who struggled under Jim Caldwell in 2013 and thrived under Kubiak this past season.
Trestman was one of the first names many threw out for the Ravens coordinator vacancy. Kubiak's offense not only benefited Flacco, but the Ravens running-game. Justin Forsett led a unit that was top five in the league in rushing yards per game, and yards per carry. Kubiak will take over a Denver team that could be in for a new chapter, as Peyton Manning and Demaryius Thomas's futures with the team are very unclear. Trestman will be handed the keys to a contender hoping to keep arguably it's two best skill players at the skill positions in Torrey Smith and Justin Forsett. If they both re-sign, with a healthy Pitta and stellar front 5, Trestman and Flacco should have another succesful year. However, Trestman may have to work with some new pieces in Baltimore, dpeending on how free agency goes. Trestman went 13-19 as the Bears play-caller, and was a big part of the Bears second-highest scoring offense in 2013 while using two different quarterbacks (Jay Cutler and Josh McCown).
The Ravens were a few plays away from beating the Patriots in the playoffs this season, and they wil lbe looking for Trestman to keep the ball rolling on offense. Trestman has previously served as the OC for the 49ers, Raiders, Browns and Cardinals. His system calls for lots of throws to the Runningback, deeper Tight-End routes and a strong pocket presenc from the QB.