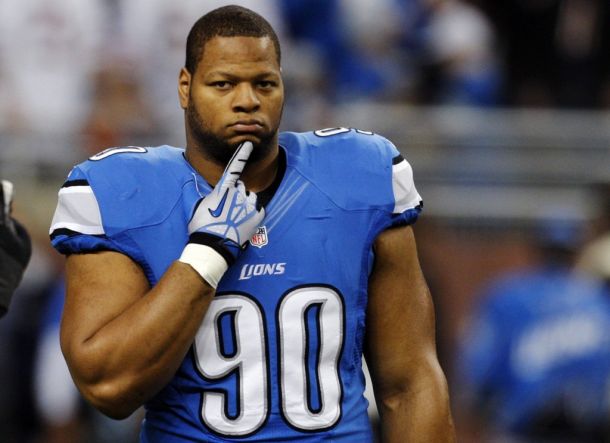 The most ridiculous issue in the coming free-agent season of the NFL -- or as some people term it, the "silly season" -- is whether or not the Detroit Lions should pay up to retain the services of defensive tackle Ndamukong Suh. This is actually being proposed in both the local Detroit and national media as if it is a serious football question. The supposed conundrum is whether or not Detroit should pay should pay fair market value for the best interior defensive lineman the NFL has seen since Mean Joe Greene. After long and careful consideration, the answer from this viewpoint is yes.
As always seems to be the case with high profile Detroit athletes, the national media -- along with some elements in the local Detroit media -- seem to be hankering for Suh to leave. The latest feeding frenzy is over his supposed desire to play in Seattle, according to sources. Of course, this comes a few months after sources indicated his heart-felt desire to play in the mega market of New York. (Presumably the New York sources are as close to Suh and as reliable as the Seattle sources.)
The new contracts handed out to fellow defensive lineman Gerald McCoy and defensive end J.J. Watt have done nothing but help Suh's bargaining position. Of course, Suh's superlative 2014 season and major role in helping turn a middle-of-the-road Detroit defense into one of the league's best this year and one of the best all time rush defenses also gives a value a major boost.
The arguments against Detroit's breaking the bank to retain Suh basically revolve around the unsupported notion that the Lions should not commit so much money to a defensive tackle. The opinion here is that that specific line of thought is plain silly and, not to be arrogant, but indicative of a lack of understanding of his impact on the field.
Suh is a run-stopping defensive tackle who can also get to the quarterback. He led the Lions in sacks this year, an impressive feat for any inside lineman, particularly in a league so heavy tilted toward pass rushing 4-3 ends and 3-4 outside linebackers. An underrated aspect of Suh's game is his versatility. Those who watch the Lions regularly know that he is capable of moving out to defensive end and rushing from the outside, though this is usually done only when Nick Fairley (another free agent) is on the field.
There has been only one similar talent on the defensive side of the ball whose team allowed him to leave without getting anything in return. That would be Reggie White. We all know how that worked out for both the Philadelphia Eagles team that let itself get outbid for White as well as the Green Bay Packers team that secured his services.
For those who assert that Detroit does not have the cap space to re-sign Suh, one can only assume that anyone holding that view is unaware that contracts are not guaranteed in the NFL, and, therefore, cuts and restructures are quite common.
Detroit, under GM Martin Mayhew, has regularly bumped up against the salary cap in the pre-free agency off-season, so it is well accustomed to the financial finagling that goes into creating room to sign other teams' free agents as well as take care of its own. Indeed, one of the reasons Suh's cap number is so high is because he was willing to restructure his deal in past years so that Detroit could extend Matthew Stafford and Calvin Johnson, as well as sign pricey free agents such as Reggie Bush and Chris Houston.
Although some have tried to make the weak argument that Detroit should emulate New England, Pittsburgh, Green Bay, and the other perennial powers in terms of not over-paying for free agents, no one has been able to come up with a comparable time when a team let a player of this caliber leave without receiving anything in return and remained a contender or flourished in his absence. There is a simple reason for that. There are none. Good teams simply do not let great players in their prime walk away for nothing.
An attempt to compare Suh's current situation to Richard Seymour in New England a few years back not only fails in its approximation of their relative importance to their teams and stage in career, but it also ignores that the Patriots received a high draft pick for Seymour. Failing to re-sign or franchise Suh would leave the Lions empty-handed and their newly acquired status as a serious contender in the NFC in jeopardy.
Detroit, if they have not already, should offer Suh a relatively cap-friendly long-term deal that is in line with the one hundred million with fifty guaranteed that Watt got, and it has to exceed the value that McCoy received as well. It may very well be that Suh will not resign with Detroit prior to hitting official free agency on March 10 no matter what the Lions offer. That would make sense for him in terms of driving up his potential numbers with multiple bidders involved. If that is the case, Mayhew should not hesitate to slap the non-exclusive franchise tag on him.
Doing so would allow Suh to negotiate with other teams and, if some salary cap-rich team such as Oakland really does want to sign him to an offer he can't refuse, the Lions can take consolation in the two first round draft picks they would receive in compensation if they chose not to match any deal that would take away their defensive star. In addition, even if they tag Suh and have his supposedly-prohibitive $26-million cap number (his cap number this past season was 22 million, so it is not like its a huge increase) on the books for the '15 season, they can still attempt to work out a long-term deal with him.
The Detroit Lions are historically one of the NFL's most woeful franchises. They seem to have turned into contenders with their talented roster and the addition of coach Jim Caldwell. The team owes it to itself and, more importantly, owes it to its patient and loyal fans to not let the best defensive tackle of his generation leave the team empty-handed.