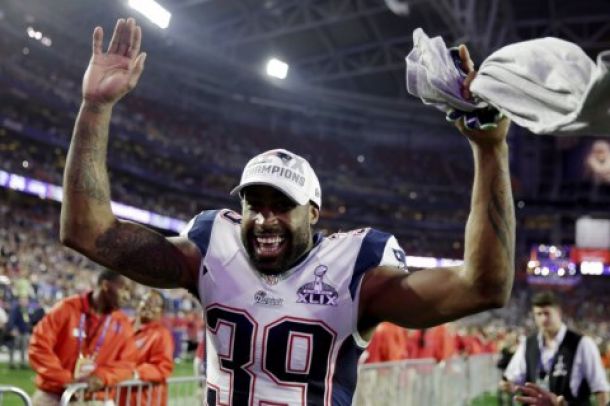 On Tuesday before his appearance on NFL Network, Patriots Cornerback Brandon Browner went on a miniature rant on his Twitter page. His target? Hip-Hop star Kanye West. Browner, usually known for his hard hits on the field, made some crushing statements for the public to gossip over. Quite frankly, this author thinks this is nothing less than brilliant, oh, and very, very amusing.
Browner was clearly upset at West for interrupting artist Beck after winning Album Of The Year at the Grammy Awards. It's not the first time West rudely interrupted an Artist on stage (Taylor Swift 2009.) Browner goes on to say "If only I could've been Beck for one night. Kanye would be rapping thru the wire." Browner, to the delight of everybody on Twitter also goes on to call Kanye a "Sucka" amongst other things .
Browner also rips West for his interruption of Taylor Swift at the 2009 MTV Music Awards and calls him a "real tough guy." To see all these tweets in full go on Twitter and check out his page @BBrowner27
This might just be one person that Kanye won't dare to interrupt. No statement has been released from the West camp, and this author doesn't imagine one will be. Browner however is still on his personal Twitter page answering fans and fellow teammates, including Patriots LB Dont'a Hightower (@Zeus30Hightower) who called Browner "a fool" in a joking manner over social media late Wednesday afternoon.
Advice from yours truly, Kanye, do what's best and stay on the sideline for this play.