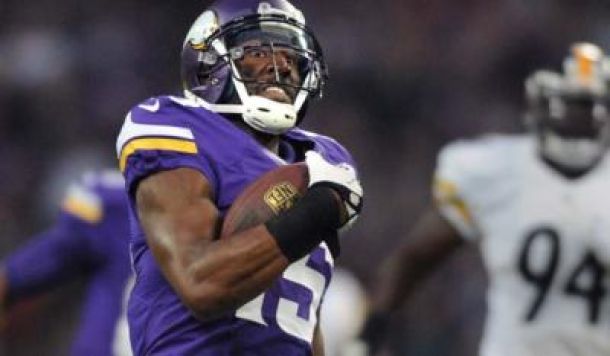 The Miami Dolphins' busy offseason continued on Wednesday, when they signed former Vikings and Packers wide receiver Greg Jennings. Jennings' deal with the Dolphins is worth $8 million over two years. Rand Getlin of the Yahoo! Sports reported the signing, and this agreement will re-unite Jennings with his former offensive coordinator, Joe Philbin, who is now the head coach of the Dolphins. Philbin was the Packers' offensive coordinator from 2007 to 2011 before joining the Dolphins. Jennings joined the Packers in 2006 and left in 2012, the year after Philbin left.
At age 31, Greg Jennings will be the veteran leader in a receiver core that includes young talented players such as Jarvis Landry, 22, and Kenny Stills, 23. Jennings has averaged 898.1 yards, 61.3 catches, and seven touchdowns per season during his nine-year career. However, most of his career was spent with either Brett Favre or Aaron Rodgers throwing him the ball, both of whom are two super bowl champions and likely future hall of famers. Last year with rookie Teddy Bridgewater throwing him the ball for the majority of the season, he led the Vikings in receiving with 742 yards, 59 catches, and six touchdowns.
For the Dolphins, the signing gives them a good locker room presence that can still be productive on the field in Jennings. Greg might not be able to be as productive as Mike Wallace, whom the Dolphins traded to the Vikings this offseason, but he is familiar with Joe Philbin and has established a good relationship with Philbin, something Wallace wasn't able to do. That is a big reason the team was quick to send Wallace to Minnesota.
This signing also means the Dolphins won't feel forced to draft a wide receiver with the 14th overall pick in next week's draft. Nontheless, the team is still considering drafting Amari Cooper, Kevin White, or Davante Parker in the first round. However, the signing of Jennings means the team can draft the best available in the first round, rather than have to pick a wide receiver at 14th overall.
Greg Jennings joins a list of Dolphins offseason additions that includes Ndamukong Suh, Jordan Cameron, and Kenny Stills.