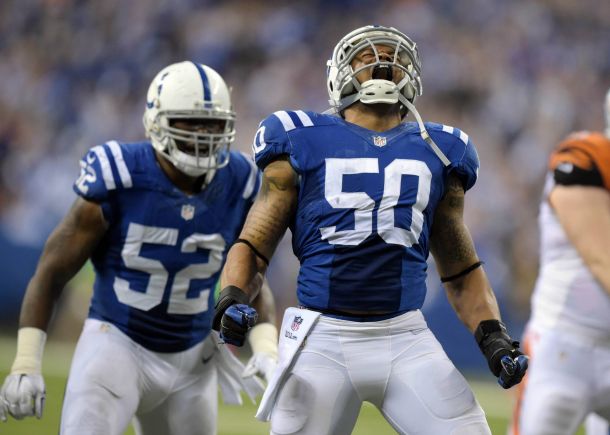 INDIANAPOLIS -- The Indianapolis Colts and inside linebacker Jerrell Freeman will be together for another season. After a long period of silence, Freeman signed the Colts' 1-year free agent tender, which is worth $2.35 million. He was hesitant on signing because he was seeking a long term deal with the Colts, but they didn't want to sign him to a long term deal this off-season.
Typically having leverage against a team will help restricted free agents but the Colts played their cards perfectly. It was all about the waiting game, and Indianapolis just had to wait until the deadline, last Friday, for teams to give offer sheets to restricted free agents. No team offered Freeman a contract before the deadline, so he lost all leverage.
This situation reached headlines last week after Freeman decided to skip the Colts' voluntary workouts. He was one of the few players to be absent from these workouts. However, now that he has signed his tender, all signs point to him participating in them. Skipping the workouts was likely for leverage in negotiations, but that didn't work at all.
Since the Colts placed a franchise tender on Jerrell Freeman, other teams would have had to give up a second round pick to sign him. That's why he didn't receive any offer sheets, as teams thought that their second round picks were more valuable than him. That's not really surprising considering the fact that this year has a talented inside linebacker class. Even though the team didn't use an early pick on an inside linebacker, the possibility of that happening before the draft served as leverage for the Colts in the situation. When you also add that to the Colts' right to refusal, it gave Jerrell Freeman almost no negotiating power.
If the Colts didn't have enough power already, they signed the younger and also very talented inside linebacker Nate Irving. Had Freeman agreed to a deal with another team, the Colts were completely ready to move on. They would've gotten another second round pick, plus they already had a talented inside linebacker with great potential to start. That's basically why the Colts had a "no-fear" mentality in negotiations with Jerrell Freeman.
There should be plenty of motivation for Freeman this season. This will be his final opportunity at a big contract in the off-season, considering the fact that he is currently 29 years old. It's unknown right now whether or not the Colts will be that team to give him the long-term contract that he desires. If he goes out this season and performs at a high level, it should be expected to see the team at least put in an offer either before or during next off-season. If he shows signs of declining, the Colts probably won't look to bring him back, not to mention, other teams wouldn't want to sign him to a lucrative deal. This is the very definition of a "make-or-break" year for Jerrell Freeman.