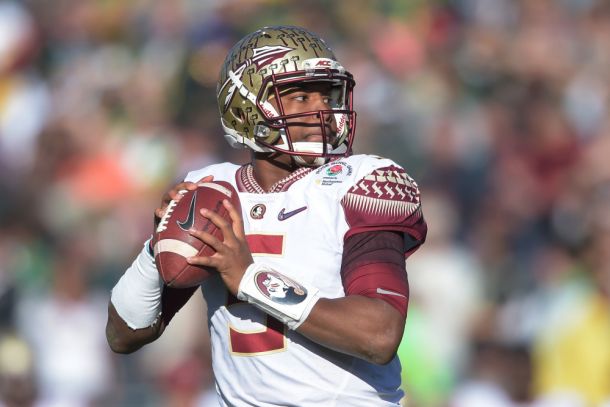 Jameis Winston, the quirky yet uber-talented quarterback out of Florida State, is staying in state by going to the Tampa Bay Buccaneers. Let's take a look at the #1 pick in the NFL draft:
Position: QB
School: Florida State
Year: RS Sophomore
Measurements: 6'4, 231 lbs. 32" arms, 9 3/8th" hands
Collegiate Stats: 26-1 career record, 66% completion percentage, 7,964 passing yards, 65 touchdown passes, 28 interceptions, 145 rushes for 284 yards and 7 rushing touchdowns.
Combine Measurements: 4.97 second 40-yard dash, 28.5 inch vertical jump, 103 inch broad jump, 7.16 second 3-cone drill, 4.36 second 20-yard shuttle
Other Notables: Won the Heisman Trophy in 2013, led Florida State on a game-winning drive against Auburn to win the 2013 national championship.
About Winston: On the field, Jameis Winston looks every bit the part of a franchise NFL quarterback. He has the big frame that is built to endure NFL hits. He also has an NFL-caliber arm. Winston has a very strong arm that can launch deep passes or zip the ball into tight windows. He has the accuracy and touch to put the ball to a place where only his receiver can make the catch. He played in a pro-style scheme at Florida State so there are no questions on whether he can adapt to an NFL system. He has excellent football intelligence, some scouts even called it "Peyton Manning-esque." He recognizes defenses very well and anticipates his receivers' routes. There are questions about his decision-making at times. He forces the ball into tight windows where it is intercepted. He had 18 interceptions in 2014, 8 more than he had in 2013. He does not wow anyone with his athleticism, but he is elusive in the pocket and can make a play with his feet when need be. He is simply a winner, as he went 26-1 in two seasons as the Seminoles' starting quarterback. When the game is on the line, Winston would always find a way to pull out a win. Off the field, Winston has a past that would drop him off draft boards altogether if not for his incredible talent. Winston is currently involved in a civil lawsuit stemming over a sexual assault allegation in 2012. He was charged with stealing crab legs, got into a BB-gun battle on campus, and yelled an obscene phrase on top of a cafeteria table. While the latter seem harmless, they show a lack of maturity.
Bottom Line: Winston can be a franchise quarterback if he stays out of trouble and matures. He certainly has the talent to be the face of a franchise. He has an excellent arm with top-notch football IQ. Tampa Bay has been looking for a top notch QB for a while, and the team hopes he is the star of the future.