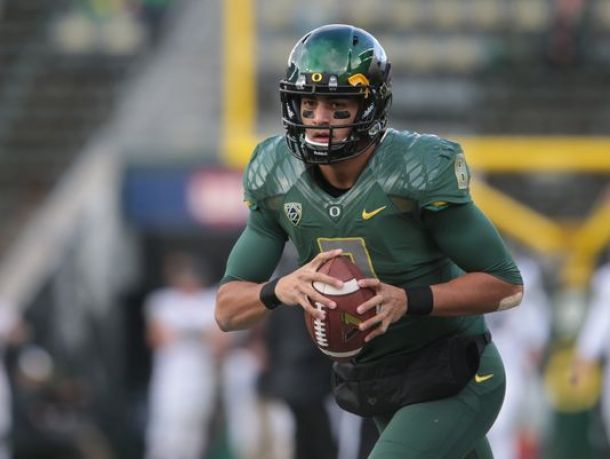 Marcus Mariota, the Hawaii native that has took the nation by storm with his lightning quick speed and play-making ability at Oregon, has been drafted by the Tennessee Titans at #2 in the NFL Draft.
Position: QB
School: Oregon
Year: RS Junior
Measurements: 6'4, 222 lbs. 32" arms, 9 7/8th" hands
Collegiate Stats: 36-5 career record, 67% completion percentage, 10,796 yards, 105 touchdowns, 14 interceptions. 337 rushes for 2,237 yards and 29 touchdowns.
Combine Measurements: 4.52 second 40-yard dash, 36 inch vertical jump, 121 inch broad jump, 6.87 second 3-cone drill, 4.11 second 20-yard shuttle.
Other Notables: Won the Heisman Trophy in 2014, won 2014 Rose Bowl and lost in 2014 national championship against Ohio State.
About Mariota: Marcus Mariota is almost the complete opposite of Jameis Winston. Winston is a pocket-passer, while Mariota is a dual-threat. Winston has numerous off-field issues while Mariota is saint off the gridiron. Marcus Mariota has good size for an NFL quarterback at 6'4 and 222 lbs. He has elite speed for the position and can create plays out of the pocket. He can also play in the pocket and deliver the ball very well. Mariota played in a very simplified scheme at Oregon where he did not have to read defenses that often. His receivers were wide open on a large number of plays which just will not happen in the NFL. He needs to learn how to work through his progressions and read defenses in order to become a franchise quarterback. He rarely threw interceptions, but he fumbled at an alarming rate with 27 cough-ups in his career. Ball-security will be something Mariota has to improve on. However, Mariota has the athleticism, work ethic, and clean background that can transform him into an elite signal-caller at the next level.
Bottom Line: Mariota needs to learn how to work through progressions and read defenses, but the athletic traits are all there. Ken Whisenhunt's staff in Tennessee will be prepared to help him grow into the NFL. Tennessee attained many offers to trade the pick, but held on tight, and will likely be glad in the long run as they try to rebuild their franchise.