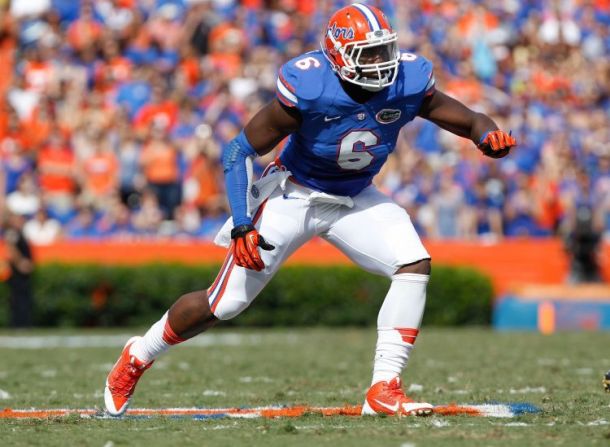 Height: 6-foot-3
Weight: 261 lbs
40 yard dash: 4.60 sec
Bench Press (Reps of 225): 19 reps
Vertical Jump: 32.5 inches
Broad Jump: 112.0 inches
Three Cone Drill: 7.40 sec
Dante Fowler came in the 2015 NFL Draft as the top graded linebacker according to the grades from NFL.com, he is also the fourth highest graded player overall on the same list behind Leonard Williams, Amari Cooper, and Kevin White.
Fowler is a very versatile player who lined up in multiple positions for the Gators during the 2014-15 season. He played as a defensive end for a majority of his defensive snaps but also lined up at outside linebacker or even in the interior d-line based on the situation. At 6-foot-3 and 261 pounds, his size will likely force him to play more in a linebacker role. He is not big enough to play consistently on the defensive line.
His speed though, at 4.60 sec/40 yard dash, makes him a big threat as a speed rusher coming off the edge in a 3-4 defensive scheme. Getting into the backfield was not a problem for Fowler in 2014 as he registered 15.0 tackles for loss and 8.5 sacks. His career stats included 34.0 tackles for loss and 14.5 sacks in 37 games played.
The Jags have been craving a player of this capacity, and he will likely be a cornerstone for the team headed by Gus Bradley.