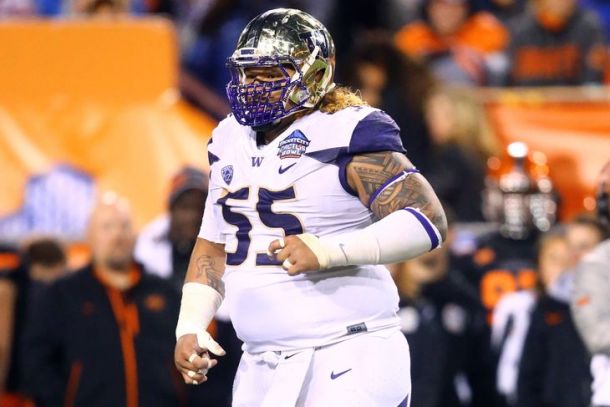 Height: 6-foot-2
Weight: 339 lbs
40 yard dash: 5.64 sec
Bench Press (Reps of 225): 34 reps
Vertical Jump: 30.5 inches
Broad Jump: 95.0 inches
Three Cone Drill: 7.99 sec
This year marked the 4th year anniversary since Danny Shelton's brother was murdered. Through the past 4 years, in his memory, Shelton has built himself a great career at the University of Washington, and is now a member of the NFL.
The best way to describe the play of Danny Shelton is "space-filler". He is best compared to Vince Wilfork of the New England Patriots, a player that occupies space in the interior of the defensive live and just seems to absorb blockers. This ability opened up areas for his teammates to make tackles and penetrate into the backfield.
Shelton himself had a very good year with 93 tackles, 16.5 tackles for losses, and nine sacks. He also recovered five fumbles for the Huskies in 2014. Shelton's play also elevated the play of fellow defensive lineman Andrew Hudson who finished the year with 12.5 sacks. The linebacking corps also benefited especially Hau'oli Kikaha. Kikaha finished the season with 19 sacks and 25 tackles for loss.
One of the things that makes Shelton such a unique talent is that he is very agile for his size. He looks like a player that will try to just use his strength to bull-rush his blockers but he showed a great ability with the swim move and even occasionally a spin move.
One of his biggest criticisms is that he tends to give up on a play early when he doesn't immediately break through the line of scrimmage. If he can improve this among some other weaknesses, he could be a very solid nose tackle for a long time.