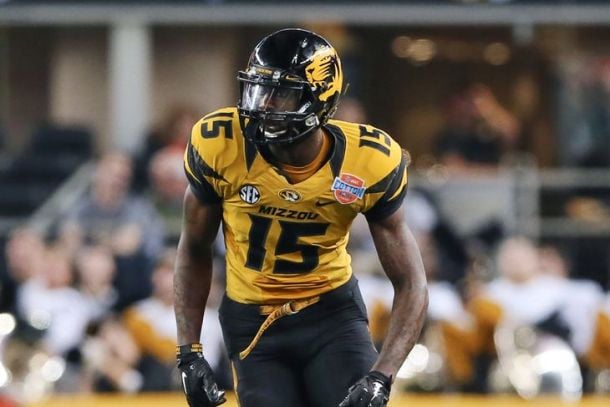 Height: 6-foot-5
Weight: 237 lbs
40 yard dash: 4.49 sec
Bench Press (Reps of 225): 13 reps
Vertical Jump: 33.5 inches
Broad Jump: 119.0 inches
Three Cone Drill: 6.89 sec
Dorial Green-Beckham is the epitome of high-risk and potential high-reward in the 2015 NFL Draft. He has a laundry list of off-the-field problems. He was dismissed from the University of Missouri after an alleged burglary and assault investigation. He was also arrested twice for incidents involving possession of marijuana.
The last time that he actually suited up for a football game was on January 3rd, 2014 when the Missouri Tigers beat the Oklahoma State Cowboys 41-31 in the AT&T Cotton Bowl. Green-Beckham caught 4 passes for 53 years in that win.
Despite the off-the-field issues, he is an extremely talented football player on the field. He was the top-rated player nationally coming out of high school. He possesses that rare combination of size and speed that make him a very dangerous athlete on the outside. DGB has a very natural pass-catching instinct and can grab nearly any ball put in his direction between the hash marks.
Unfortunately, he is still very raw in terms of his football IQ. His route-running is subpar at best and according to many scouts, he has problems against press coverage. He has struggled with his footwork on balls thrown towards the sidelines, which is even more important now that he will need to get two feet down to make a catch.
If you are looking for a player to compare him to on the field, the best one that this writer can think of would be Kelvin Benjamin. They have similar physical attributes but Green-Beckham has a little more speed whereas Benjamin has bigger, longer arms.
The Titans took a risk, and Ken Whisenhunt's crew will have to be on top of their game to coach DGB to greatness.