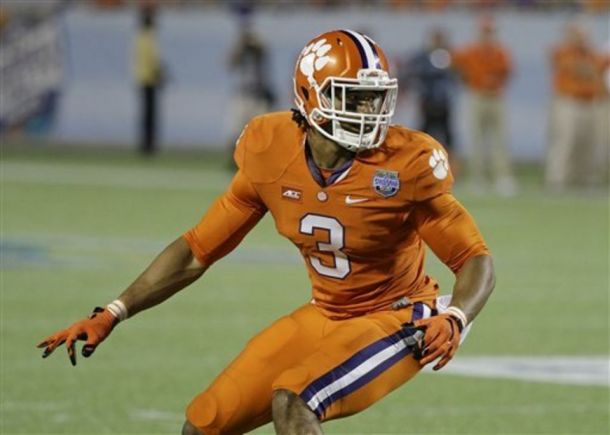 Overview
During Beasley's four seasons with Clemson he totaled 52.5 tackles for a loss, 33 sacks, 29 quarterback pressures, 11 pass breakups, seven forced fumbles, two recovered fumbles and two touchdowns in 1,421 snaps over 48 games (25 starts). Beasley ranks first in school history in sacks, fourth in tackles for loss and tied for seventh in forced fumbles. He is a two-time first-team All-American and two-time first-team All-ACC selection. He was selected as ACC Defensive Player of the Year in 2014. As a junior in 2013, he had 23 tackles for loss, 13 sacks, 12 quarterback pressures, six pass breakups and four forced fumbles in 13 starts. In 2012, he had a team-high eight sacks. Played nine games during his freshman season in 2011, and was redshirted in 2010.He was rated the No. 16 athlete in the nation by ESPN out of Adairsville High School (Ga.).
Analysis
According to the following analysis by NFL.COM, Beasley is an explosive athlete who's always first off the snap. True edge bender who can torque hips and shoulders to turn corner. Has ankle flexion to dip and slalom around corner at difficult angles to block. Former running back with quick feet and fluid hips. Able to change directions and burst to target. Possesses potentially lethal spin move, but doesn't use it enough. Primarily a hand-in-dirt rusher but has played standing, too. Able to drop into space. Solid instincts and outstanding closing burst. Quick hands to swat initial punch. Hands will get even better and could become a major weapon with more coaching. Can embarrass tackles who lunge and miss.
His weaknesses include he is high cut with narrow waist and thin legs. Needs to add more bulk. Unlikely to convert speed to power against NFL tackles. Wins with athleticism on majority of his sacks. Rarely transitions from speed rush to spin as an instinctual pass-rush counter. Lacks ideal arm length. Too often content to stay blocked if pass rush stalls out. Needs to shed blocks more consistently against run. Good football character, but scouts are concerned about a lack of alpha-dog tenacity.
Combine Stats:
40 Yard Dash: 4.53 Seconds
Bench Press: 35 Reps
Vertical Jump: 41.0 Inches
Broad Jump: 130.0 Inches
3 Cone Drill: 6.91 Seconds
20 Yard Shuttle: 4.15 Seconds
NFL Comparison:
Bruce Irvin