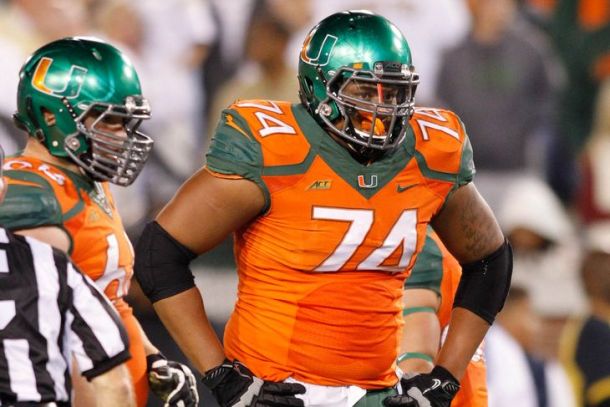 Height: 6-foot-6
Weight: 329 lbs
40 yard dash: 5.31 sec
Bench Press (Reps of 225): 37 reps
Vertical Jump: 27.0 inches
The New York Giants have selected offensive lineman Ereck Flowers out of the University of Miami with the 9th pick in the draft. Flowers is a very talented lineman who started all but one game at left tackle for the Hurricanes. He was a second team All-ACC athlete leading an offense that averaged nearly 430 yards and 34 points per game in 2014.
This selection was pretty obvious according to most of the mock drafts out there. Once Brandon Scherff came off the board to the Washington Redskins, Flowers became the player targeted. He does have the size and strength advantage over Scherff. It will be very interesting to see which of the two has the better career.
Flowers will likely occupy the right tackle position with Will Beatty penciled in as the left tackle. A big positive is that it will allowed the Giants to move Justin Pugh to the interior of the line.
As with Scherff, Flowers does seem to struggle with his pass protection. His footwork gets sloppy and undisciplined according to his official NFL analysis. It goes on to mention that he was flagged for six holding penalties over the last two seasons.