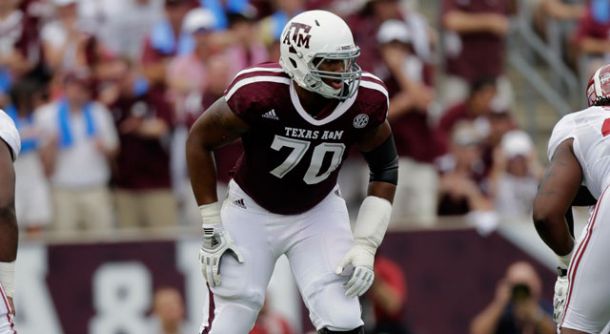 With the 21st overall pick in the 2015 NFL Draft, the Cincinnati Bengals have surprised many folks in taking offensive tackle Cedric Ogbuehi of Texas A&M.
The Bengals could have taken many skilled front-7 defensive players, but chose instead to solidify their front line on offense and select Ogbuehi. The 6'5", 306 lb tackle was named third team AP All-American and 1st team All-SEC in 2014 after a monster year for the Aggies.
Cedric tore his ACL during A&M's bowl game, but that didn't allow for his draft stock to fall too far. Ogbuehi is noted by scouts as a gifted athlete at his largely-built size who can move his feet with perfection and keep his balance while adjusting to different rushing schemes. However, Ogbuehi's upper-body strength and technique is in much question.
The Bengals' running game has emerged over the past few seasons, and Ogbuehi will help create lanes for Gio Bernard and Jeremy Hill. Because Cincinnati already has a solid starter at each slot of their O-line, Cedric will most likely have to sit out his first season as a backup to Andrew Whitworth and Eric Winston.