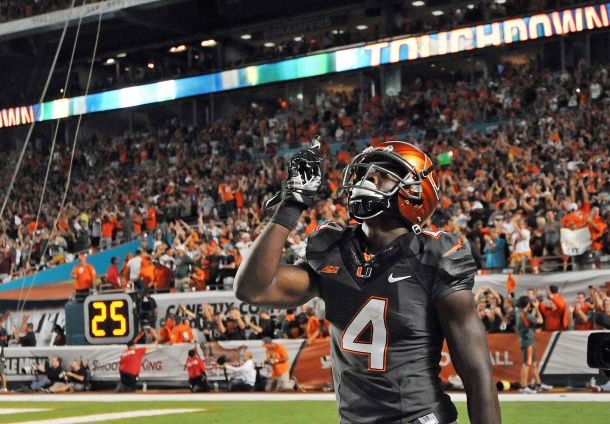 CHICAGO -- Many were expecting the Indianapolis Colts to address the safety, nose tackle, or even right tackle position in the first round. They not only didn't draft a player at one of those positions, they drafted a player at perhaps their deepest position. Names like Landon Collins, Malcolm Brown, and Damarious Randall were thrown around as potential picks, especially since they all managed to fall to the Colts' pick at the 29th overall spot, also considering the fact that they appear to be players of need. Indianapolis didn't need Phillip Dorsett, but they got a great offensive weapon at the wide receiver position.
Now many Colts fans are panicking because the team didn't take a safety, defensive tackle, or an offensive tackle. Remember, this is just the first round, there are plenty of picks remaining to address those positions. Indianapolis Colts' GM Ryan Grigson clearly stated before the NFL Draft that the team would go with the best player available philosophy in the earlier rounds. Phillip Dorsett was hands down the best player available, that's not debatable, however the only concern is whether the Colts can still address their needs. Fans will have to wait and see what they do in those later rounds, because you never know what Indianapolis will do.
Having T.Y. Hilton and Phillip Dorsett will space the field very well for Andre Johnson and Donte Moncrief in the middle. Duron Carter would be nice to implement this season, but he's likely going to take a season to be acclimated as a big part of the team. Carter is coming from the CFL, where there is no press coverage. At the moment, this team has four complete receivers that are 100 percent ready to go for next season. On the surface, this Phillip Dorsett pick looks bad considering the Colts' other needs, but they needed a field spacer opposite of T.Y. Hilton. That's just on some formations; T.Y. Hilton, Phillip Dorsett, Andre Johnson, and Donte Moncrief are all versatile enough to basically attack the defense in any way they lineup. Keep that in mind, but having another deep threat alone that can space the field is dangerous for opposing teams, not to mention, he's a very versatile talent too.
Having all of those weapons, plus a good backfield, the Colts will provide a ton of match-up problems across the board. There is no way that any team in the league can cover the Colts when they use these weapons in a 4-receiver set. Don't forget, their tight ends are Dwayne Allen, Coby Fleener, and Erik Swoope (if he's ready from the practice squad), not to mention, their running backs are Frank Gore, Daniel Herron, and Vick Ballard. All of these players are high quality players, and the Colts just need to sort out their offensive line and get some chemistry built throughout camp. If Gosder Cherilus is able to play at a high level, this O-line should be set. However, drafting his replacement could be a good decision if one of the earlier off-season additions doesn't take his spot.
It's not just space that is created with the addition of Phillip Dorsett, he will be facing easier coverages. Teams will struggle running a zone defense against the Colts, they have too much talent to run zone against. That in itself should be a great help for Phillip Dorsett since he won't be the focus of the zone defense. When teams play man-to-man against the Colts, Dorsett will be seeing the worst coverage players as his man. T.Y. Hilton and Andre Johnson will be getting the top coverage players from opposing teams, leaving the worse players responsible for Donte Moncrief, Phillip Dorsett, and Duron Carter. He will be able to take advantage of that with his athletic ability and skill. His versatile skill set only helps this, he can attack defenses in almost any route/distance/situation possible, even more so when you sprinkle in the fact that he's not getting the opposition's best cover man.
Taking Phillip Dorsett was selecting the best player available of course, certainly it wasn't a dire need. That trend should continue throughout the draft for the Colts. They don't view the positions of need by the fans the same way. They get a close look at all of their players each day, they get to see their young prospects that are already on their roster. They believe in some of their young players at the positions that the fans view as needs. Just like the fans, experts view the overall defensive line (specifically nose tackle), safety, and right tackle as needs, but the Colts have players that they have been developing at each of these positions. The experts and fans alike, don't get to see these players develop, so formulating an opinion might not be the best route to go, trusting the judgment of the organization is a good option. Especially considering the fact that the team sees these players and develops them throughout the year.
When all healthy, these are the projected starters for the offensive line (left to right): Anthony Castonzo, Jack Mewhort, Khaled Holmes, Todd Herremans, and Gosder Cherilus. The right tackle and the center positions are concerning still. Right tackle (Gosder Cherilus) has been a disappointment and is breaking down with injury, so that's the position they should draft on the offensive line if they do choose to address it. Lance Louis, Jonotthan Harrison, Hugh Thornton, Joe Reitz, and Donald Thomas will all be able to compete for a starting position, not to mention Ben Heenan (CFL), assuming he makes the roster. As mentioned earlier, right tackle is the way to go if they do go the route of addressing the offensive line in the draft. The young players are there, they just need to develop. The center position should continue to develop, but the progress is not known yet, so it remains a concern until they get to showcase their prospects' progress.
To get to know Phillip Dorsett better, here is a small profile on him.
---
Height: 5'10"
Weight: 185 lbs
Arm Length: 30 1/4"
Hands: 9 3/8"
40-Yard Dash: 4.27 seconds
Bench Press: 13 reps
Vertical Jump: 38 inches
Broad Jump: 10 feet, 9 inches
Short Shuttle: 4.03 seconds
3-Cone: 6.70 seconds
20-Yard Shuttle: 4.11 seconds
Read VAVEL's breaking news article for some strengths and weaknesses of Dorsett's gane.
---
This pick isn't a "stupid pick" by the Colts, however, it may appear that way because it comes with a few conditions. As long as the Colts get high quality play from a starting safety alongside Mike Adams and as long as they get high quality defensive line play too. The Colts were pretty high on safety Dwight Lowery that they signed, as well as their existing defensive tackles. That faith needs to pan out because these areas were major holes last season, as well as basically for the past five-plus seasons. Ryan Grigson even said himself that he thinks that the team is pretty balanced, so don't expect the Colts to automatically go with a defensive tackle or safety in the early rounds, if you were to have any expectations, expect a best player available thought process in the remainder of the draft.
Hearing the safety and defensive line positions as needs will be a constant trend, but the team has faith in their guys. Dwight Lowery may not sound like a good signing, but remember, the same thing was said about Mike Adams not too long ago. Mike Adams finally went to a fitting team, and what did he end up doing? Adams ended up making the Pro-Bowl and having one of the best years as a safety in the NFL. Not saying that Dwight Lowery will follow the path of Mike Adams, but his skill set fits the Colts, making the safety position not so much of a dire need. Dwight Lowery can certainly have a great tenure in Indianapolis, the pieces are in place for it to happen.
As many Colts fans know, Ryan Grigson is a very aggressive GM, so don't rule out any draft night trades either. Indianapolis could really use more draft picks in the earlier rounds, so don't be surprised if the Colts trade into this draft, especially if a player like Landon Collins is still on the board. The Colts' faith in their roster talent should only be a concern if it doesn't work out, because remember, players like Nick Fairley and Terrance Knighton signed for very modest contracts this off-season, and Indianapolis didn't even give them a call. Indianapolis signed the run-stopping Dwight Lowery, who they are high on, so don't expect them to draft a safety in the earlier rounds either. It will look really bad if the Colts don't draft players at these positions, then get poor performances from them next season. They made their move at safety and they have confidence in it. The team made one significant move for the defensive line, acquiring Kendall Langford, but they failed to acquire any other quality players. Again, they have faith in their players, whether it's dumb or not. Just don't forget if those players don't produce, the team had many opportunities to acquire quality talent at these position.
Having the Colts go with the best player available philosophy throughout this draft is likely going to happen, as it should. It could be another smoke screen, but hopefully the "best player available" happens to be a defensive tackle or a safety at some point. Nothing has been shown from the defensive tackle prospects on the active roster to exude much confidence. Dwight Lowery had a horrific overall season last season. He did have a solid run-stopping year, but he was awful in every other aspect of the safety position. Indy's same problems appear to remain, can the Colts contain elite tight ends and stop the run? The first round didn't solve any of those problems, but then again, the draft is very far from over, so a lot can still happen. There is a lot of faith going around in Indianapolis, hopefully it is backed up with production, because it appears that the organization doesn't view the team's needs the same as the fans.
---
Indianapolis has the special teams already, their offense is already set, but what about their defense? Let's take a quick look at each position group on the defensive side of the ball.
Inside linebacker has the starters (Jerrell Freeman and D'Qwell Jackson) and a good reserve (Nate Irving), along with a few project players (Henoc Muamba and Shawn Loiseau); that position seems set because Muamba would most likely be the other reserve alongside Irving. He didn't get the chance to show what he's got last year due to injury, but he's had plenty of time to develop. This should be his best chance. The team is betting on him to succeed.
The Colts' safety group has a great starter (Mike Adams), a questionable starter (Dwight Lowery), and a few project or prospect players (Winston Guy and Dewey McDonald). Dewey McDonald is still only 24 years old, he was also signed last May as a rookie, and it appears that he has another season of developing to do. Winston Guy came into the league in 2012 as a 6th round pick by the Seahawks. He has had a lot more time to develop, so expect him to at least be the best candidate to give Dwight Lowery a run for his money in training camp. We don't know what he's been working on, who knows, he could be ready to start for next season, but don't count on it. They should still want to draft a potential starting safety before the fifth round, but that doesn't mean Winston Guy still can't compete for the starting spot.
Outside linebacker seems set as well; Indianapolis has good starters (Robert Mathis and Trent Cole), great reserves (Johnathan Newsome and Erik Walden), and developing prospects (Bjoern Werner, Cam Johnson, and Daniel Adongo). People can agree with the starters and reserves, those are great players to have. The developing prospects are the interesting thing. Bjoern Werner is entering a make or break season with the fan base, they will be ready to run him out of town if he doesn't perform this season. With that being said, if he cares about his career, he'll work hard enough to make a run at a reserve spot. Everything at both inside and outside linebacker seems set to me, only way they take one is if that player is the "best available" player.
Corner seems good to me as well. The main components (Vontae Davis, Greg Toler, and Darius Butler) are ready like they have been for a few years now. The depth positions are what worries me, especially if one of the main components were to go down. Those reserves are Sheldon Price, Jalil Brown, and Deveron Carr. None of the reserves have any legitimate NFL experience, but hopefully their development is at a stage that allows them to step in if necessary. This position seems like a possibility for a late round selection, especially considering the fact that Greg Toler is entering a contract year.
Nose tackle has been a concern, here are the players that the Colts have on the roster: Zach Kerr and Josh Chapman. So far in his career, Josh Chapman has been disappointing. However, this is basically a make or break year for him. The team is putting faith in "the guys they have" at this position, meaning that they have faith in Zach Kerr and Josh Chapman. Zach Kerr showed flashes of great play last season, but he'll need to do that consistently next season. With development this off-season, he could be a big part of the team next season. The same can be said about Josh Chapman, as long as he puts in work this off-season. Since there are only two nose tackles on roster, the Colts very well could draft one in the earlier rounds to compete for a starting role in training camp. Josh Chapman has been getting chance after chance, perhaps finally this chance he'll prove himself? At some point he's going to have to, this appears to be his final chance. Instead of admitting he's wrong, Ryan Grigson is apparently taking a gamble with him. Stopping the run and getting a consistent pass rush has been a major problem for Indianapolis, the solution relies heavily upon the disappointing shoulders of Josh Chapman and the prospective shoulders of Zach Kerr, as of right now at least.
The defensive ends are suspect still, and they could use an upgrade. The starters (Kendall Langford and Arthur Jones) are concerning, as Jones couldn't stay healthy last season, and Langford didn't put up a quality season last year. The reserves are okay (Montori Hughes and Kelcey Quarles), they need to continue to develop. The rest appear to be "camp bodies" (Earl Okine and Gannon Conway). As mentioned earlier, nobody but the team gets to see how these players progress inside the facility, so someone could surprise us all. If these players can stay healthy, the starters should be fine, but not most likely not great. This is still a defensive position of need, perhaps the team will address this at some point in the draft, whether it is trading into the draft or at one of their currently existing picks.
With all of this being said, the Colts still could add a few quality defensive lineman, as well as a safety. If they do decide to follow through with this best available player philosophy, it wouldn't be too upsetting, but the faith in their current talent needs to work out. The offense is set (perhaps maybe not right tackle), linebacker appears set, corner appears set for now, and one of the starting safety spots is set. Now acquiring another starting safety, then some quality defensive lineman across the board remains as the only holes.
This wasn't a good safety draft to begin with, so don't be surprised if the Colts don't even draft one safety, especially considering the fact that it is apparently not a need in the team's eyes. With Malcolm Brown off the board, courtesy of the New England Patriots, the Colts' realistic defensive line options from the draft are running down. So maybe the draft isn't the best way to go for either of these areas after all. Going best player available and looking at the remaining free agents or the waiver wire could be the way to go. The team does believe in their young prospects across their roster, so going best player available will be their draft strategy.
Here's another interesting twist on this whole situation. Many experts are saying that Landon Collins doesn't fit the Colts' needs at the safety position, that could be true, but he is the best safety in this draft. This is a very poor safety draft this season, so perhaps the Colts aren't even bothering to waste a pick on a bad player. Whether the organization's confidence in their young safety prospects is genuine or not, they are going to get a great opportunity to prove themselves next season. They've had time to develop, so now they need to show up. Perhaps GM Ryan Grigson is thinking the same thing as well? Don't forget, safeties like Dawan Landry are still available in free agency. That could always be an option if their existing players don't exude reason for confidence. As for the defensive line, the draft has a deep class this season, so they should be able to acquire a few quality defensive lineman. The options are gone in free agency for the defensive line positions, so addressing that need will have to come in the draft if it happens at all. There is still a lot of draft left, expect the Colts to make a splash. They need to be able to stop the run and elite tight ends, getting a good safety from an NFL active roster in a draft night trade is a possibility, as well as a defensive lineman. Or they could simply make a trade for one of these positions, then draft the other (most likely defensive line would be the drafted position). Indianapolis has a lot of trade bait to make something like that happen, don't be surprised if it does. They still have options, this was a phenomenal selection for the offense, now it's the defense's turn to get some help in the draft.