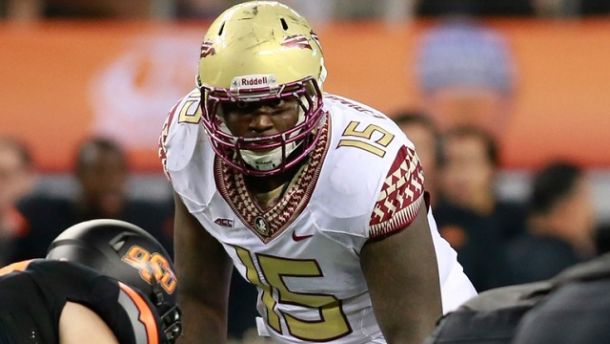 Florida State University national champion and defensive lineman Mario Edwards, Jr is set to join the Oakland Raiders after being taken with the 35th overall pick in the 2015 NFL Draft.
Position: DT
School: Florida State
Year: Junior
Measurements: 6'3, 279 lbs. 33 1/4 arms, 10 7/8 hands.
Other Notables: Was selected first-team All-ACC in 2014. Was selected third-team All-ACC in 2013. Rated No.1 prospect in nation out of high school and was selected USA Today defensive player of the year.
About Edwards, Jr: He is able to play either base end or defensive tackle in a 4-3. He specializes as a run defender. His strength allows him to anchor at the point of attack and push through multiple blockers. Edwards also has the burst to develop more as a pass rusher. When motivated Edwards can gain more strength and toss blockers around.
However, Edwards being ineffective as a pass rusher is what hurt his stock. Edwards had 8 sacks over his career at Florida Sate, but showed little to no explosiveness off the snap. His ineffectiveness as a pass rusher may prove to hurt him as a pro. His hand usage is hit or miss and he appears to lack power with his hands. Edwards also sometimes gets too involved in hand fighting and will lose sight of the ball carrier.
Edwards finished his career at Florida State with 89 tackles, 23 tackles for a loss, eight sacks, and seven fumbles. If Edwards can work some things out he will certainly give the Raiders some much needed help.