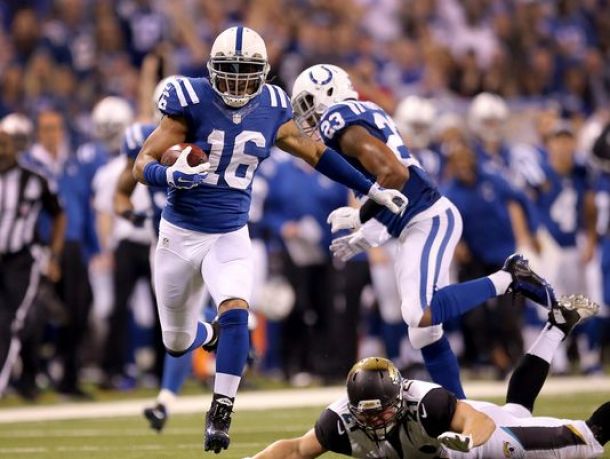 INDIANAPOLIS -- The Indianapolis Colts announced earlier this past week that they had released return specialist Josh Cribbs. This comes as little to no surprise since the Colts drafted wide receiver and return man, Phillip Dorsett, in the first round of the NFL Draft. 31-year old Cribbs was just no longer needed in Indianapolis, mainly because his only contribution is his return game. He simply didn't bring enough to the table to keep a roster spot.
The beauty of drafting Phillip Dorsett is the fact that he brings immense versatility to the team. Being able to return kicks and punts is just a part of that versatility. That's how he will be able to make an instant impact; he'll develop into a great receiver, but the team has a lot of existing talent at the position so his snap count at the wide receiver position will be somewhat limited early on in his career.
Chuck Pagano spoke about Phillip Dorsett's return skills, "He'll develop into being a really good kick returner for us," Pagano said. "There's so many things that you can do with a guy like this from a gadget-play type."
Indianapolis needed a boost in their return game last season, which is why the team signed Cribbs back on November 18th, 2014. He did an okay job, averaging 32.0 yards per kick-off return and 6.6 yards per punt return. He failed to get a touchdown in either the punt or kick returning game. The play-maker was just not making enough plays, and, in fact, when the team needed him the most he let them down.
During the AFC Championship Game, Indianapolis forced the Patriots' offense into a "3-and out" on their first possession, resulting in a punt. Cribbs mishandled the punt as it bounced off of his helmet, allowing the Patriots to recover the ball. New England scored on this extra possession, going up 7-0 in the first quarter.
After muffing that punt, Cribbs was replaced by T.Y. Hilton for both punt and kick return duties. Chuck Pagano made it clear that ball security was key, because every possession counts in the playoffs. Josh Cribbs simply didn't make enough plays and became a liability when the team needed him the most.