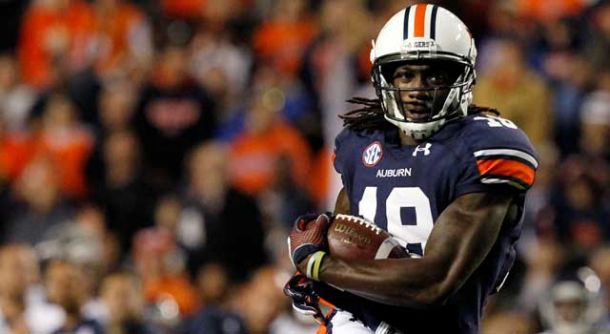 In 2014 the Pittsburgh Steelers had one of the league's best offenses. During the 2014 season the Steelers averaged 387 yards per game, which ranked 3rd in the NFL. The Steelers also had the league's best passing attack with an average of 316 passing yards per game. That attack was lead by veteran pro-bowl QB Ben Roethlisberger, who had his best statistical season of his career. Roethlisberger had help from first team all-pros WR Antonio Brown and RB Le'Veon Bell. Rising stars Martavis Bryant and Markus were productive along with veteran TE Heath Miller. Roethlisberger now has a new weapon in Auburn speedster Sammie Coates.
Sammie Coates measurable's:
6'1"
212lbs
33 3/8" arm
9 3/8" hands
4.43 40 yard dash
41" vertical jump
Coates is very similar to current Steelers wideout Martavis Bryant. A larger bodied receiver that is fast but is also raw. Coates has the speed to blow the top off coverage just like Bryant. He also possess great acceleration off the line of scrimmage. The biggest issue is his hands, unlike Bryant, Coates to often dropped balls that should've been caught. He had a drop rate of 19.1 percent in college. He also has route running issues, as he often slows down on deep routes or gets confused causing the quarterback to overthrow him. While some issues might be problematic if not fixed, this is an overall solid pick up by the Steelers.