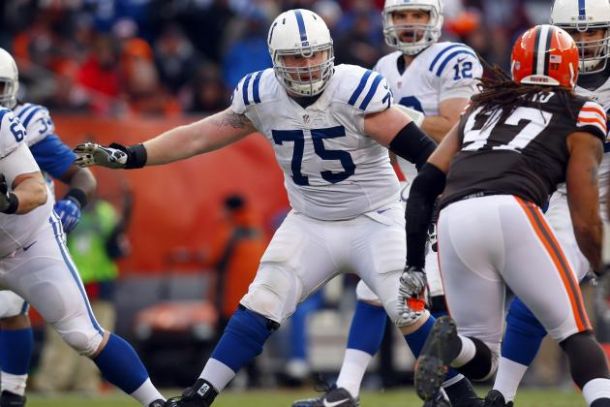 INDIANAPOLIS -- The Indianapolis Colts entered training camp with major uncertainty at the right tackle position. Gosder Cherilus hasn't re-gained his health, and many experts wonder if he will ever be able to play at a high level again. Cherilus won't be participating in OTA's due to his injury, so someone has to get his reps. It turns out that the Colts have been using Jack Mewhort at right tackle. This was very unexpected but it could really help the overall capability of the offensive line in both the passing and running game.
According to the Indy-Star's Stephen Holder, Jack Mewhort has been working 'exclusively at right tackle'. There is no doubting Jack Mewhort's ability as he's proven to be a good pass and run blocker. However, it is unknown how well he can block as a right tackle considering the fact that he's been an interior offensive lineman so far in his young NFL career. He was most successful at left guard but the team will need him to play right tackle. With Mewhort getting all of his work at right tackle, that might be a sign of low confidence in Cherilus's ability to produce at a high level this season.
Stephen Holder has reported on various updates for the right tackle position so far this off-season. He has stated that Denzelle Good, "has been getting a lot of reps out there," Ulrick John, "has played out there some," and that Joe Reitz has been receiving, "the lion's share" of reps at the right tackle position during OTA's. It appears that the most likely starter at the right tackle position is Jack Mewhort, however, that could change based on performance from the others.
Here is what Chuck Pagano said to the media about Jack Mewhort playing the right tackle position, "Versatility is hard to find. So obviously [Mewhort] playing a bunch of spots and playing everywhere along the line is definitely the more you can do. I think everybody is well aware of that spot and us trying to fill that hole right now. I'm fully confident that we've got the guys in this building right now that we're going to be fine there."
It's obviously way too early to tell what is going to happen for sure, but Gosder Cherilus's health is certainly causing some positional problems for right tackle. The competition for the right tackle consists of Jack Mewhort, Joe Reitz, Ulrick John and Denzelle Good, in that order. It appears that Jack Mewhort will remain in the lead and the players behind him could change in order. Joe Reitz will most likely maintain a high rotational role, same for Ulrick John. However, there could be rotation in that order, but Denzelle Good will most likely remain near the bottom.