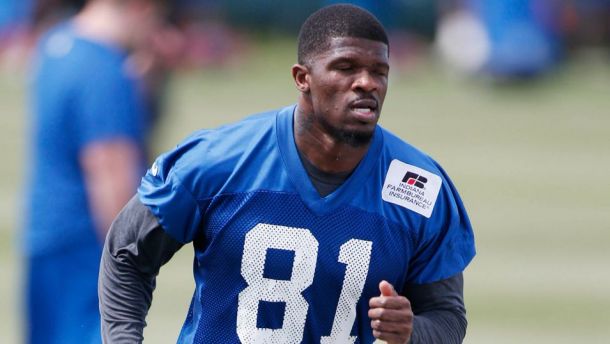 INDIANAPOLIS – Indianapolis Colts wide receiver Andre Johnson said earlier this week that he has found his love for football once again. He 'stuck it out' for a few years in a frustrating situation with the Houston Texans, but "deep down inside", he knew that he would have to move on. The team wanted to reduce his role, they didn't view him as the dominant receiver that he once was.
Well you know what they say, 'another man's trash is another man's treasure'. That saying holds truth for the Colts as they went out and signed Andre Johnson to be their second receiver. Johnson has been 'ecstatic' with the Colts organization so far. Johnson's situation has really made a turn for the better since being released by Houston in March.
He will be able to play with a great young quarterback like Andrew Luck certainly can be fun for any player. However, Andre Johnson has already called Luck the greatest quarterback that he's ever played with. Being able to play with a great quarterback [Andrew Luck], his old college teammate [Frank Gore], and on a title contending roster has truly made him happy again.
"Everyone saw the frustration the last few years," Andre Johnson said, via Zak Keefer of the Indianapolis Star. "Not only in me, but in my play on the field."
Johnson's main goal is to win a Super Bowl in Indianapolis with the Colts. After a successful off-season, it appears that the possibility of that happening is quite high. Improvements to the overall defense, acquiring quality weapons to throw to for Andrew Luck, and bringing in a consistent and high quality running back will all be big for Indianapolis in this upcoming season.
For the most part of Johnson's career, he has had to play with poor supporting cast receivers and quarterbacks. That is not the case anymore, Indianapolis has weapons at wide receiver [Hilton, Moncrief, Carter, Dorsett], running back [Gore, Herron, Tipton, Ballard, Robinson], tight end [Allen, Fleener, Doyle], and most importantly, quarterback [Luck].
With all of that being said, it is easy to figure out why Andre Johnson is happy with his current situation in Indianapolis.