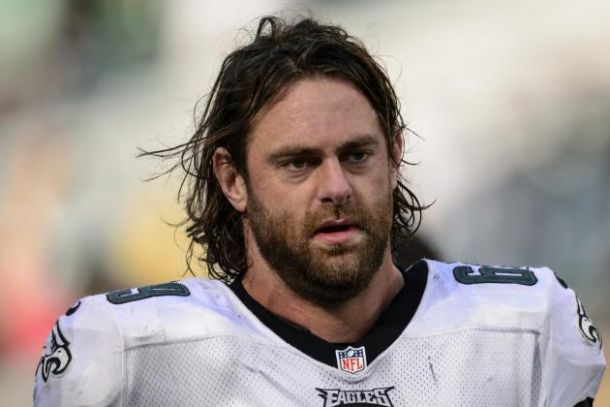 This offseason for Chip Kelly and the Philadelphia Eagles has been nothing but entertaining. They brought in guys like DeMarco Murray and Ryan Matthews. They traded Nick Foles to St Louis and got Sam Bradford. We all thought they were done after they signed quarterback Tim Tebow, but it looks like they are not, according to Adam Schefter. The team has cut offensive guard Evan Mathis after the team could not find a trading partner for him.
Since being a third-round pick in the 2005 NFL Draft, Mathis has played for four teams in the Carolina Panthers, Miami Dolphins, Cincinnati Bengals, and Philadelphia Eagles. He is a pretty good offensive lineman, as he is good at running and pass blocking. Most of his success came from playing with the Eagles. Even though he is 33, he is still a good offensive lineman.
Philadelphia is losing a big piece of the offensive line with this release. He was a great offensive lineman with the team. It will be hard to replace him in that offensive line since he was maybe the best lineman that they had on the team. Philadelphia needs a really good offensive line with Sam Bradford under center since he is prone to injury.
One player this might make an impact on is running back DeMarco Murray. He just lost one of the best offensive linemen on his team, as he was good at run blocking. If you are Murray, you need a solid offensive line to be the star running back to produce good numbers with the team. But no matter what, Murray will still make a big impact on the team since he is that good.
The Chip Kelly offense is going to be interesting to watch this season. With all of the moves that he has made this offseason, with Sam Bradford under center and DeMarco Murray as the starting running back, they are going to be a team that everyone is going to keep their eye on this season since the team has big expectations to fill this upcoming season.