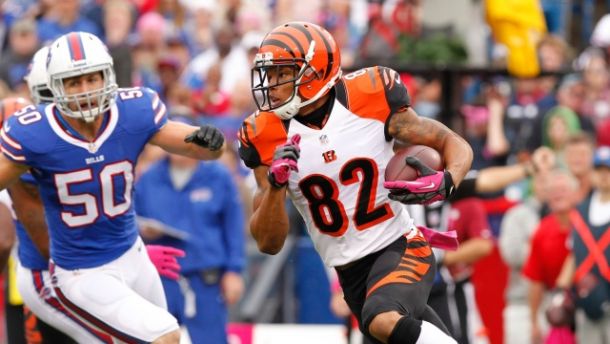 Every year, there are players who emerge as must-have fantasy players on the waiver wire. They are coveted prizes to pickup and in many cases, get thrown in the starting lineup. They weren't accounted for, but they become integral parts of their teams offense.

To some extent, that's what these guys are. They are also, however, the players can really negatively effect some of your guys production. They could be the different between a 13 point game, and a 7 point one. Between your running back having 14 carries, and your running back having 10 carries. Be weary, be careful and most of all, be ready.

1 - Marvin Jones - Cincinnati Bengals. Do you remember him? He was a nice free agent find in 2013, especially when he had a 4 scores in one game. He had 10 TD's and 51 catches before missing all of last season with an injury. He is back, and people leaning on A.J. Green, and especially Mohamed Sanu in deeper leagues need to remember that Jones will re-emerge as one of Andy Dalton's favorite targets.

2 - Roy Helu Jr. - Oakland Raiders. Helu bounced from the Redskins to Raiders this off-season and needs to be considered by Latavius Murray owners. Murray came on strong at the end of the season, as the Raiders pulled out 4 wins their final 7 games. Expect, Helu to be more than just a third down back, however. Oakland will mix up the carries a bit more, and while Murray will get the bulk, there will be weeks when Helu takes a big bite out of Latavius's production. He is a great pass-catcher out of the backfield and can be a one-play spark plug for an offense.

3 - Josh Huff - Philadelphia Eagles. This second-year wide receiver was mostly a special teamer in 2014, though he did manage to have 12 catches. the former Oregon Duck is certainly a favorite of the coaching staff (no surprise) and Eagles insiders have reported that coaches have been raving about him. Huff suffered from a shoulder injury and some careless plays last year, but don't be surprised if he steals targets from Nelson Agholor and Jordan Matthews in 2015. He has explosive speed and genuine big-play ability that Chip Kelly will certainly utilize. He could be a hot mid-season free agent pickup, as well as another fantasy killer.

4 - Danny Woodhead - San Diego Chargers. "Guys who were hurt last year" is undoubtedly a theme of this article, but Woodhead is no backup running back. He is best when serving a complimentary role, which is what he will be to Melvin Gordon. The Chargers wont overwork Gordon in his first year, and they know that the elusive Woodhead is capable of being their change-of-pace back. Woodhead wont hurt Gordon too much overall, but there will be a few frustrating games in there where Danny takes a touchdown away.