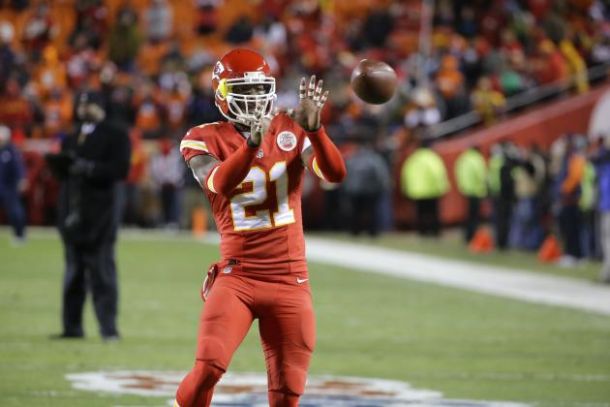 After pleading guilty to a DUI charge back in April, the NFL has decided to suspend Kanas City Chiefs cornerback Sean Smith for the first three games of the NFL season, according to ESPN Insider Adam Schefter.
In April, Sean Smith was arrested for a DUI and received two years of probation. The suspension by the league comes as no surprise.
Kansas City made a statement following the league's rulling Friday, "respect and support the league's decision in this matter and will have no further comment on the situation."
Smith, 28, had a productive year with Kanas City last season, recording 50 tackles and one interception. He had a big impact on Kanas City's secondary last season, and was a pivotal part of defense that finished second in the league in scoring defense.
On the Kanas City side of things, the team will be missing a physical presence in the secondary for the first three games of the season. The first three teams the Chiefs will face are the Houston Texans, Denver Broncos, and Green Bay Packers.
Luckily, the Chiefs have depth in the secondary, despite losing their best player in Smith. The likes of Marcus Cooper and Ron Parker will have to step up in his three-game absence. Kansas City also used their first round (Marcus Peters) and third round (Steven Nelson) draft picks on cornerbacks.
This can't come at a worse time for Sean Smith as this is a contract year and will become a free agent at seasons end. Despite a solid track record as a player on the field, the off the field issues will only hurt his wallot.
Smith will be able to participate in training camp and preseason games. But once the season begins he can't report to the team until Tuesday, September 29th, the day after the Chiefs game against the Packers.