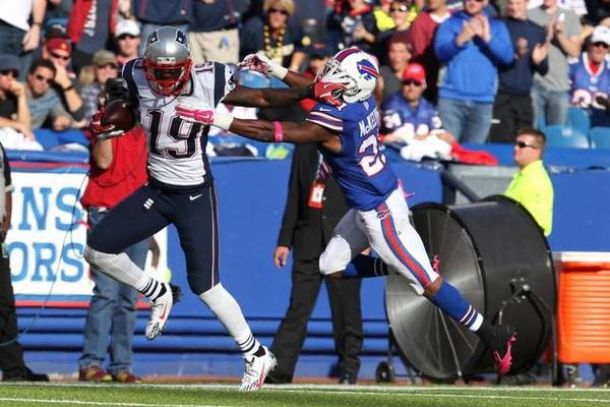 Just a few days before training camp starts, New England Patriots placed wide receiver Brandon LaFell on the PUP list. He can still able to attend team meetings and other stuff, but he just cannot hit the field during training camp. This is coming off his first season with New England, where he did pretty well at his role at Wide Receiver, ending with a Super Bowl win over Seattle Seahawks.
Last season for New England in 16 games played, Brandon LaFell had 73 receptions, for 953 yards, 7 touchdowns. It was a breakout season for LaFell in New England, set a career high in receptions touchdowns and reception yards. When you have someone like Tom Brady throwing you the ball, it is always a good thing. He proved that he could be a good receiver, with a really good quarterback like Tom Brady.
Brandon LaFell might not be the top franchise wide receiver, but he is a good depth guy. He has good hands, he has good speed to get past cornerbacks, and he is known for getting 4 or more touchdowns per season. After last season setting career highs in every category, the expectations have been set higher for Brandon LaFell. There were many people that wondered if he can put up 70 plus receptions in back to back seasons?
New England is most likely going to lose Brandon LaFell, for the start of training camp and maybe a preseason game or two. It is not really a big deal now, the team is lucky that he did not get hurt during the regular season. The team will hopefully have him healthy for week 1 of the regular season, when the team opens up vs. Pittsburgh Steelers.
Brandon LaFell will have to work hard during training camp and preseason, to rehab and get off the PUP list. Once he gets healthy he can be a receiving threat for New England, helping the team on the quest to back to back Super Bowl titles.