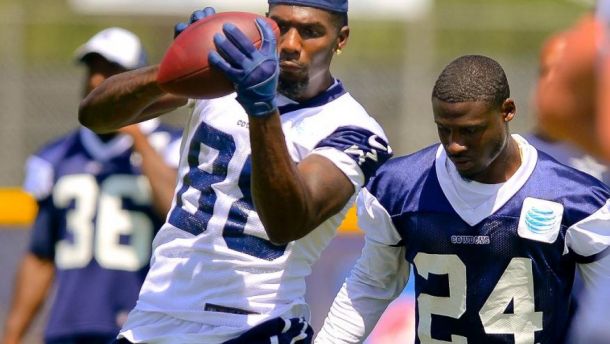 Head coach Jason Garrett called day 4 of Dallas Cowboys training camp 'sloppy' but an altercation that arose near the end of practice between wide receiver Dez Bryant and cornerback Tyler Patton may change all that.
Day 4 of training camp, August 2nd, started off with the arrival of Jeremy Mincey ending his three-day camp holdout and signing a one-year extension while earning a $500,000 raise for the upcoming season. Mincey spent the day working with trainers on the sidelines, jogging lightly as the Cowboys want to ease him back into things. During the practice's second competitive period, he was seen offering advice on shifting weight to Randy Gregory, who also collected a hatful of tips from Charles Haley. It's a huge unknown what, if anything, Gregory will produce this season, but it won't be for lack of quality instruction.
The offensive line continued to impress as they dominated the defensive line as a unit at various times throughout 11-on-11 drills. The offensive line has impressed as expected and provided open gaps for running backs Joseph Randle and Lance Dunbar to run through. That's not to say that the d-line hasn't had their moments as second-year defensive end DeMarcus Lawrence beat right tackle Doug Free on a set of 1-on-1 drills. Greg Hardy has set the tempo and intensity for the defense and has become a leader to some of the young guys.
Tony Romo and Dez Bryant seem to be connecting with one another as if they're already in mid-season form and haven't skipped a beat. Jason Witten is the constant that he's always been at tight end while Cole Beasley continues to do great work in the slot receiver position as he prepares to have bigger role in the offense.
On the opposite side, Brandon Carr had a nice interception off of Romo as he undercut Terrence Williams. And Morris Claiborne is still being eased into the swing of things as he recovers from offseason surgery. The former first-round draft pick is simply trying to make the team as he's stated from day 1 of training camp.
For the most part, the camp session was a sloppy one with a lot of dropped balls and false starts on the line as the team gets into tune with the fast pace nature of the game. Jason Garrett isn't known to take it easy on his players and wants everyone to know that last season doesn't matter looking forward and they have to start from ground zero and earn it all over again.
That 'sloppiness' Garrett was referring to may all change on Tuesday, August 4th, when the Cowboys resume practice after a 'scuffle' that occurred between Dez Bryant and Tyler Patton. Tension had been building between the two former Oklahoma State Cowboys and it finally broiled over as Dez took a swing at Patton after the two kept exchanging verbal blows with one another.
"I got a bit overheated," Dez said later, after having first trotted off the field declined to speak with the media and gave them a 'stiff arm' as he walked off. He then later, of his own personal choice, opted to return and speak with the media over the incident.
"It's just two great competitors going at it. We were chirping a little bit, but at the end of the day, that's what you want. I got a little bit overheated. At the end of the day that's something that you really need for a team to try to win ballgames. We shook hands, we hugged, we respect one another."
Tyler Patton was speaking a similar tone when addressing what happened, "We're brothers. We squashed it. So, that was it. It's over with. We're family."
Former Cowboys Pro Bowl safety and ESPN analyst Darren Woodson was present at practice and watched from the sideline and commented, "This was no big deal because it's happened every day in football forever."
In the end, Dez Bryant and Tyler Patton talked and hugged it out and you could even see them cracking a couple smiles as they walked off the field. It's a common commodity at football training camps and it may very well be what the Cowboys need to stop being so 'sloppy' from here on out.