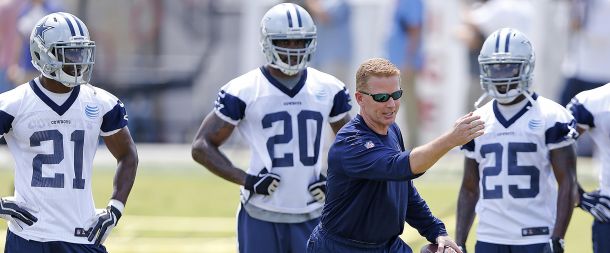 The Dallas Cowboys running back position is the most heavily talked about topic thus far in training camp and for good reason. DeMarco Murray left for the division rivals, Philadelphia Eagles, while Dallas added Darren McFadden to their backfield who has yet to take a snap during training camp.
That could all change soon as McFadden feeling close to 100 percent and is itching to return to practice. McFadden could return to join his teammates as early as Saturday, August 8, but Stephen Jones and the rest of the Cowboys are being cautious with their veteran running back and want to make sure he's completely 100 percent when he returns.
Darren McFadden hasn't had the success in the NFL, rushing for 1,000 yards only once during his career, as he had in Arkansas where he was a Heisman trophy winner. But that doesn't mean the Stephen Jones and the Cowboys aren't excited to have McFadden as part of their backfield.
Dallas Cowboys executive vice president Stephen Jones recently joined SiriusXM NFL Radio to talk about the team's running game. Here's what he said about Darren McFadden:
"I know there are a lot of fans that have had their doubts. There are probably people in this organization right now that are a little frustrated that (McFadden) is not out there on the field right now. It's Jerry and I's opinion that we want to make sure that he is ready to go when he hits that football field.
"We think that he has great skill and can really help our team out this year. At the same time we got to make sure that when he hits the field, he's ready, and there's not something not nagging him that keeps him from being the best that he can be. I know that can be frustrating for our coach staff right now. It's that old deal, they're out of sight, out of mind, and they're only concerned with what's on the football field right now, but it's our job — as Jerry being the general manager, my job as player personnel guy — that when we do put that player out there that he is ready."
McFadden will be important in the Cowboys running back by committee approach but there's no question that the lead back is Joseph Randle and it's his job to lose.
Randle has been focused and aggressive during training camp thus far and showing bursts of speeds getting to the secondary often and plentiful. He's worked on his blocking and seems to be showing a more mature approach to taking advantage of the opportunity to be the lead running back.
No one is expecting Randle to replace Murray and carry the balls 400-plus times all by himself, which would just be unrealistic. However, the Cowboys are expecting Randle to lead the running attack and carry the ball 15-20 times a game with Darren McFadden and Lance Dunbar in the mix. Dunbar suffered what's being called a mild sprained ankle during Wednesday's practice with MRI results coming back negative. Coach Garrett has stated Dunbar is day-to-day and should be back on the field shortly.
The Cowboys are confident that Joseph Randle will be able to excel behind Dallas' offensive line. Not just because of the talent that is on the line but also Randle's speed and acceleration to mesh with the strengths of the line who excels at zone blocking.
Jason Garrett had this to say about Randle and his group of running backs on SiriusXM NFL Radio:
"We feel good about Joseph Randle. We feel good about Lance Dunbar. We're excited to see Darren McFadden. Those guys have been good players in this league in the roles that they've had. We feel confident in our offensive line, we've added to that. We have a couple young players we're excited about, but we feel good about how we ran the ball last year and we're really intent on running the ball the same way this year with the guys that we have."
Injury can always play a factor but the Dallas Cowboys like who they have in their backfield right now and have no intentions to bring in anyone else.