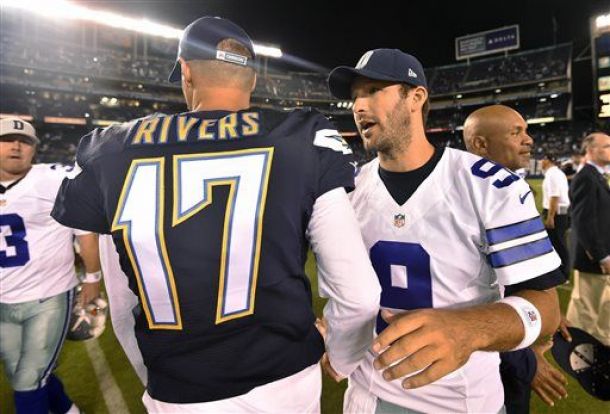 The Dallas Cowboys and the San Diego Chargers are set to hit the field for the first time in 2015 Thursday night, August 12 at 9:00pm (CST) at Qualcomm Stadium.
While this will be the first chance for both fan bases to see their respective teams out on the field there will be notable key players that won't suit up. Neither team's starting quarterbacks are scheduled to play Thursday night, with it only being the first preseason game there is no reason for Tony Romo or Phillip Rivers to participate.
The most highly questioned position on the Cowboys roster has been running back but neither Joseph Randle, Darren McFadden, or Lance Dunbar are expected to participate. All are nursing minor injuries and are expected to suit up for practice on Saturday, it's also Jason Garrett's protocol to rest his lead running back in the opening preseason game much like he did with DeMarco Murray. Gus Johnson is penciled in to start at running back Thursday night as he looks to take advantage of the opportunity and make the final roster cuts.
Dez Bryant is also not expected to play as he's nursing a minor right hamstring injury. Other notable Cowboys players on offense not expected to play are Pro Bowl left tackle Tyron Smith as well as right tackle Doug Free who is slowly working his way back from off season ankle surgery.
While the Cowboys interior lineman such as Travis Frederick, Ronald Leary, and Zach Martin are also expected to play a least a series they're not expected to stay in the game for very long. That will leave plenty of playing time for La'el Collins, the first-round talent who went undrafted out of LSU. Many speculated Collins would come into training camp and win Leary's starting left guard spot and that just hasn't been the case. It's no knock on Collins who has done a fine job so far but Leary has been a monster thus far during training camp. Collins will have to be really impressive the rest of the preseason to overtake Leary for the starting left guard job and he'll get his first shot to impress against San Diego.
Cowboys wide receiver Cole Beasley should see a good amount of snap early on in the game but lot of eyes will be on Lucky Whitehead who is battling for the 4th/5th wide receiver spot on the depth chart. Whitehead is also expected to help fill Dwayne Harris' role from a year ago on special teams, most importantly on kick-off and punt returns
On defense is where things get interesting for the Cowboys as there will be a couple of key new faces, none more noticeable than Pro Bowl defensive end Greg Hardy. Hardy hasn't played a game since December 2013 so it'll be key to see how much rust he has to knock off before he's firing on all cylinders. Rookie defensive end Randy Gregory will also be watched carefully as he was rated as a top-10 talent in the draft before failing a drug test that caused him to drop to the Cowboys late in the second round. Gregory should get a good amount of snaps at right defensive end as well as left defensive end DeMarcus Lawrence, two players the Cowboys are hoping will contribute heavily in the pass rush this season.
The Cowboys coaching staff will be looking closely at the cornerback position, in particular first round draft pick, Byron Jones. With starting cornerbacks Brandon Carr and Orlando Scandrick out with injuries, cornerback Byron Jones is expected to get a lot of playing time. Jones has working at cornerback and safety in training camp, but he's played mostly at cornerback of late with the injuries piling up in the secondary. Cowboys love Jones versatility and maturity but want to see him be more aggressive off the line of scrimmage and make plays on the ball.
Lastly but not least the return of Sean Lee at linebacker may be the most important new/old face for the Cowboys defense as they're a completely different unit with Lee commanding the defense. He's looked as spry as ever during training camp and he's been inching to get back out onto a football field. Most important for the Cowboys is to see Sean Lee make a play here or there and get some of those game jitters out of the way after missing the entire 2014 season with a torn ACL.
For the San Diego Chargers it'll be the professional football debut of first round draft pick Melvin Gordon, one of the top 2 running backs that came out of the 2015 draft class. Danny Woodhead is also expected to make his return after an injury riddled 2014 campaign, Woodhead will add a passing dimension out of the backfield. The Chargers have committed to run the ball more as evident by their of a total of six veteran offensive linemen. They hope Melvin Gordon can be that lead back that can relieve pressure off of Phillip Rivers, especially after the departure of Ryan Matthews to the Philadelphia Eagles.
Jason Verrett and Brandon Flowers are settled in as the Chargers starting cornerbacks but there's a number of young cornerbacks will look to carve out a role once the second and third team takes the field. When it comes to rushing the passer, the Chargers have high hopes Melvin Ingram and Jerry Attaochu can wreak havoc all season. Thursday will provide a stiff test when they meet Dallas' vaunted offensive line.
Thursday night is all about first impressions for both these teams and for players on the bubble of making the final roster to start to make an impression to their coveted coaching staffs to keep them around. The main goal for both teams is simply avoid injuries and find that diamond in the rough that may be a key contributor for their football team down the line.