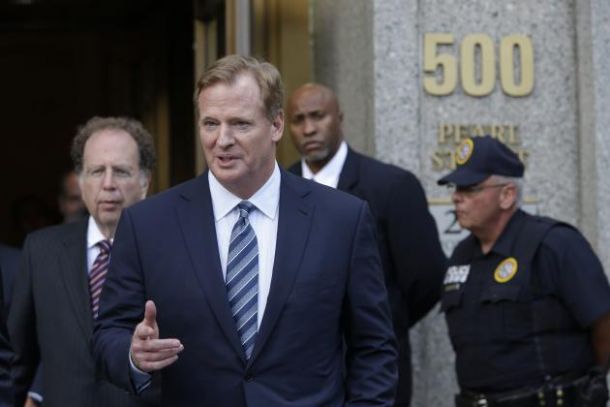 The second-round of the 'Deflategate' hearing went underway on Wednesday morning, and much to the NFL's chagrin, it did not fall in their favor.
Federal Judge Richard Berman, who has been the one hearing this case, was extremely critical of the NFL and Roger Goodell on Wednesday as the league continues its fight against SuperStar quarterback Tom Brady. Berman ordered both Goodell and Brady to be present on August 31st in New York if a settlement has not been reached before then. Brady was absent from today's hearing as he is down in West Virginia practicing with his team.
Judge Berman did have an issue with the NFL not allowing the NFLPA to interview Jeff Pash, who was the one who edited the Wells Report According to Stephen Brown, a Manhattan Federal Court reporter, Berman, "grilled Nash on why the Brady team wasn't able to call Jeff Pash as witness. Brown also tweeted out one of the more interesting statements made by Judge Berman:
NASH: "Brady was not just generally aware, he was involved."
BERMAN: "Why doesn't it say that?"
Judge Berman also questioned Goodell on how he decided on handing down a four-game suspension, and if all of it was because of the allegations or how Brady was seemingly 'uncooperative'. It was also noted that Roger Goodell compared deflating footballs to using steroids, a very harsh statement to which Berman replied:
Berman: "I don't see how four games (for deflation, non cooperation) is comparable to using steroids and a masking agent."
While it seems Berman was leaning toward the NFLPA on this one, he would actually like to see a settlement between both sides instead of having to rule on this case. Both sides are certainly on the edges of their seats for this case, as are the fans. The sooner this case gets solved, the sooner the focus can return to football rather than off-the-field problems.