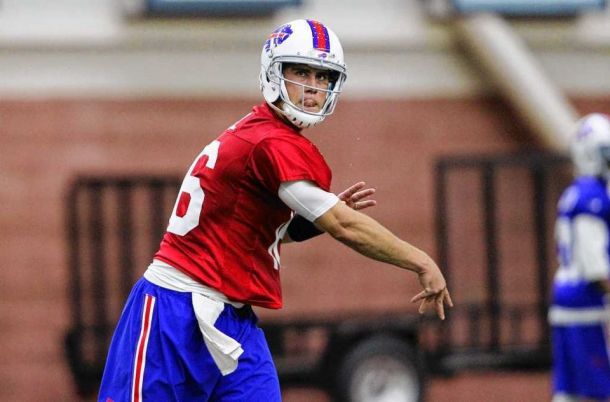 With Tony Romo on short-term IR and little depth at quarterback, the Dallas Cowboys went out and traded for veteran quarterback Matt Cassel from the Buffalo Bills. The Cowboys traded a late undisclosed 2017 draft pick for Cassel's services.
Brandon Weeden is slated to start at quarterback for the Cowboys in Sunday's game versus the Atlanta Falcons. The Cassel trade says more about Dallas' lack of depth behind Weeden than the confidence head coach Jason Garrett and owner Jerry Jones has expressed in the former first round pick.
Former Boise State quarterback Kellen Moore was slated to be the number two quarterback behind Weeden, but Moore has zero NFL starts under his belt while Cassel is an experienced veteran who knows a thing or two about filling in for an injured quarterback.
Moore will still by all means be the backup quarterback for Sunday's game against the Falcons, but Cassel will fill that role for Week 4 against the New Orleans Saints. It's also likely everyone will see Cassel sooner rather than later if something were to happen to Weeden, or if he came out against the Falcons and flat out looked awful.
However, Jerry Jones expressed confidence and praised Brandon Weeden in an interview on Dallas local radio station 105.3 The Fan. He expressed Weeden throwing a football as a thing of beauty and seemed excited to see what Weeden can do behind the Cowboys stout offensive line. The fact that this is Weeden's second straight season working with the same offensive coordinator (first time that's happened since he was in seventh grade) has the Dallas organization believing Weeden can deliver.
Christian Ponder, Matt Flynn, Josh Johnson and McLeod Bethel-Thompson all worked out for the Cowboys on Tuesday morning, but evidently none impressed the coaches enough to warrant a signing.
The Buffalo Bills acquired Matt Cassel via trade this past offseason but eventually went with Tyrod Taylor as their starting quarterback. Cassel is slated to make $2 million this season which leaves the Cowboys paying $1.75 million of the remaining contract.