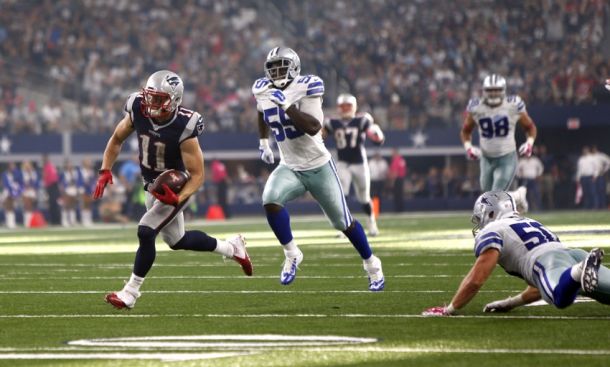 The Dallas Cowboys went into Sunday's game against the New England Patriots feeling pretty good about themselves, while they had come off some heartbreaking losses, they had Rolando McClain and Greg Hardy back in their lineup on the defensive end and were ready to go.
The New England Patriots and Tom Brady fought to make sure the Cowboys didn't get much steam in this one. While Brady was sacked five times in the first half for a loss of 28 yards total, the Cowboys actually looked as though they could put up a good fight against the defending champions. However, Tom Brady found his groove and eventually threw for 275 yards and completed 20 of his 27 attempted passes.
Greg Hardy looked rested and ready as he tore through the Patriots offensive line and knocked Brady down on multiple occasions. The early pressure allowed Dallas to keep the game close at a score of 3-3. New England kept the Dallas running game to a minimum with that big front line, and kept running back Joseph Randle to 60 yards on 15 rush attempts for the night, with only an average of four yards per carry.
Brandon Weeden who filled in yet again for the injured Tony Romo went 26 for 39 for 188 yards and no touchdown passes. The Cowboys dominated time of possession in this game, but were not efficient with all the time they had. While Weeden had a tough time trying to get the ball into the hands of any of his receivers, in the fourth quarter Tom Brady found Julian Edelman for an eventual 59 yard touchdown, which decimated any hopes of a Cowboy comeback.
Overlooked in this game was the Patriots' defensive line, which boasts Chandler Jones and Jabaal Sheard, two big and strong guys who were able to bother Weeden all night. While linebacker Dont'a Hightower left early in the game with a rib injury, the defense was able to pull together and stuff any momentum Dallas might have tried to gain in this one. Rob Gronkowski was only targeted five times in this contest, and he ended the night with four receptions for 67 yards.
Dion Lewis had a night for New England as he racked up 57 yards on eight receptions, and a touchdown as well. Lewis so far this season has shaken defenses and has gained the extra yards when necessary. He's made the Patriots offense more diverse than it already was.
In front 93,054 people, Tom Brady and company continued to show the rest of the NFL that they're on a mission this season.
The Dallas Cowboys next game is against the New York Giants on Sunday, October 25th at 4:25 PM ET. Meanwhile, the New England Patriots visit the Indianapolis Colts Sunday, October 18th at 8:30 PM ET.