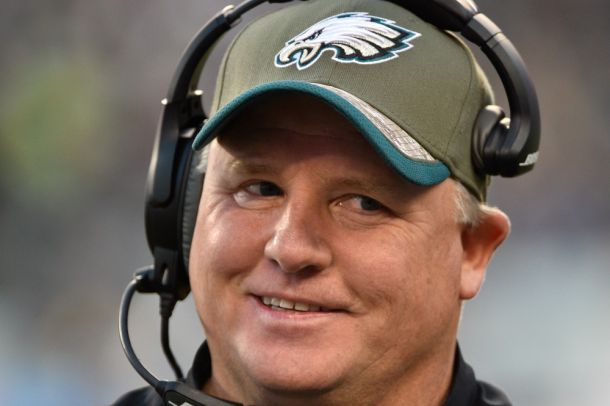 Although it has not has been the smoothest of rides for Head Coach Chip Kelly and his 2-3 Philadelphia Eagles so far this season, Kelly is not ready to abandon ship quite yet.
Amid surfacing rumors that the former Oregon Ducks Head Coach could be a potential candidate for expected coaching openings at the USC Trojans and Texas Longhorns, he was quick to squash the chatter, telling the media that he had not been contacted by the brass of either the Trojans or the Longhorns.
Kelly, whose name was rumored to be in the running for the Maryland Terrapins coaching vacancy as well earlier this week after head man Randy Edsall was released from his duties, has pioneered the Eagles to a 22-13 record over his first two-plus seasons as head coach.
While exemplifying his innovative nature over his tenure in Philadelphia, the 51-year old has caught fire from a plethora of former players for his methods and perceived biases.
This list includes current Washington Redskins wide receiver DeSean Jackson, who chided the organization for releasing him following the 2013 season, and current Buffalo Bills running back LeSean McCoy, who criticized Kelly for being "prejudiced" towards African-American players after the Eagles traded his services to upstate New York in exchange for linebacker Kiko Alonso prior to this season.
The rumors of a potential departure from Philadelphia comes as a result of USC's firing of much-maligned Head Coach Steve Sarkisian following a disappointing 3-2 beginning to the season, and the early-season struggles of Texas Head Coach Charlie Strong with the Longhorns stumbling to a 2-4 start.
The New Hampshire native cemented his reputation as an audacious, inventive play-caller and recruiter in his four seasons as the Ducks Head Coach from 2009-2012. He led Oregon to a 46-7 record, including two BCS bowl victories and a berth in the 2010 National Championship, where the Ducks fell to a Cam Newton-led Auburn team.
Kelly told ESPN.com on the matter: "I hope someday to be like Coach [Tom] Coughlin (who coached at Boston College before breaking into the NFL with the expansion Jacksonville Jaguars in 1995) and win enough games where I can stay around long enough where that speculation ends. But I understand you have to ask the question. I answered it the same way a year ago. I answered it the same way my first year here."
"It's an unfortunate part of the game."