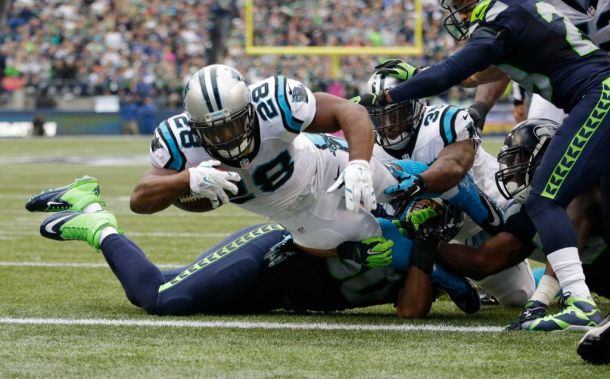 For the majority of the contest, the Seattle Seahawks looked poised to close out a fourth quarter lead. After three close losses, the team finally seemed to be exorcising their demons. They seemed ready to close out a win.
That was not the case.
Seattle gave away the lead late against the Carolina Panthers and couldn't recover.
The loss was a tough one. It marked the fifth straight game that the Seahawks have lost a fourth-quarter lead. Closing out games has proven to be the Hawks' Achilles heel this season, with each loss representing a failed opportunity to close out the game and earn a win. Don't forget, Seattle could easily be 6-0, if not 5-1, at this point.
In addition to the loss being a tough pill to swallow, the team couldn't capitalize on a big day from Jimmy Graham. The tight end had his best game as a Seahawk, hauling in eight catches for 140 yards. Graham constantly made the big plays, but in the end it wasn't enough.
The team also wasted strong performances from the linebacker corps. K.J. Wright seamlessly shifted into the middle of the defense in place of the injured Bobby Wagner. Wright mustered a team high 12 tackles. Kevin Pierre-Louis, who started in Wright's usual position on the outside, chipped in with 11 in his first career NFL start. Fellow linebackers Bruce Irvin and Mike Morgan combined for the team's three sacks.
Despite big days form Graham and most of the defense, the team was unable to execute.
While the team was unable to execute the win, Russell Wilson, Marshawn Lynch and Ricardo Lockette perfectly executed a highlight-reel flea-flicker that will be shown for the rest of the season. Wilson handed off to Lynch, who then turned and tossed it backwards to his quarterback. Following that exchange, Wilson lofted a perfect strike to Lockette. It seemed like an early exclamation point on a victory of great magnitude, but the Panthers had other ideas.
After being burned by Tyler Eifert last week, Seattle once again fell victim to strong play from the tight end position. Greg Olsen led the Panthers with seven catches for 131 yards and touchdown. Just like the team's continued inability to close out games, the Seahawks' unsuccessful attempts at containing opposing tight ends is troubling. Seattle won't have to face a tight end of Olsen or Eifert's caliber over the course of the rest of the regular season, but matchups with Jason Witten and Gary Barnidge could cause problems. Just as the team needs to improve its late-game defense, they also need to defend tight ends more effectively if things are to turn around.
Up Next:
Seattle will travel to San Francisco to take on the 49ers on Thursday Night Football. After Sunday's result, the matchup with the Niners is a definite must-win.