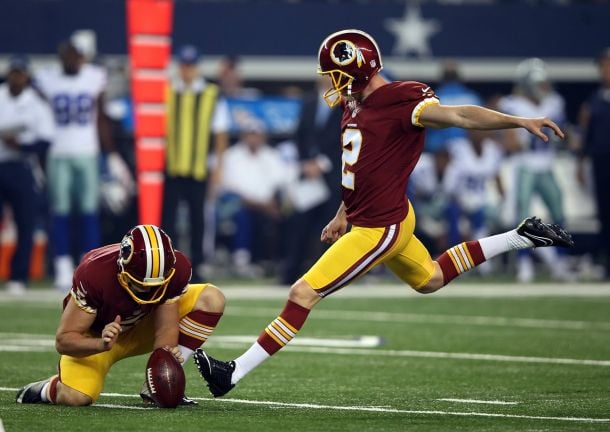 Going 1 for 3 on field goals against a bitter division rival doesn't pay off. Even if your team wins the game.
Zach Hocker missed a pair of field goals Thursday night for the New Orleans Saints, and while 'Who Dat Nation' beat their formerly-undefeated rivals, the Atlanta Falcons, Hocker has gotten the boot.
The Saints cut the 24 year-old Monday, replacing him with former-Washington Redskins kicker Kai Forbath. Prior to his exit, Hocker had made 9 of 13 kicks for the 2015 season through six games.
It all went downhill for him after an impressive 4-for-4 Week 1 showing. He missed on top of his pair against Atlanta a game-sealer against the Dallas Cowboys.
Forbath was released by Washington last month, but he didn't go unclaimed for long. He was replaced by Dustin Hopkins, who last the battle in the preseason to Hocker in New Orleans. Now Forbath is taking over for Hocker, who is now without a gig.
A 28-year old grad from UCLA, Forbath went undrafted but made his way to the Redskins after multiple free agent contracts and training camp trials.
He proved himself an extremely accurate kicker, knocking in 60 of 69 field goals at a sky-high 87 percent success rate.
Forbath was 1-2 in 2015, missing a 46 yarder, and his lack of range has been an issue since he started in the NFL. He often struggles gaining touchbacks on kickoffs, and holds a career-long field goal of 'just 50 yards'.
The kickoffs shouldn't be an issue for New Orleans, as luckily punter Thomas Morstead is a more than able kickoff specialist when on the field.
Forbath is the Saints' tenth kicker since the entrance of coach Sean Payton to the team in 2006.
"We just have to be better," said Payton of his team's kicking after the win over Atlanta. He'll try to make sure Forbath is the last guy he sees kick for the Saints under his tenure as head coach.