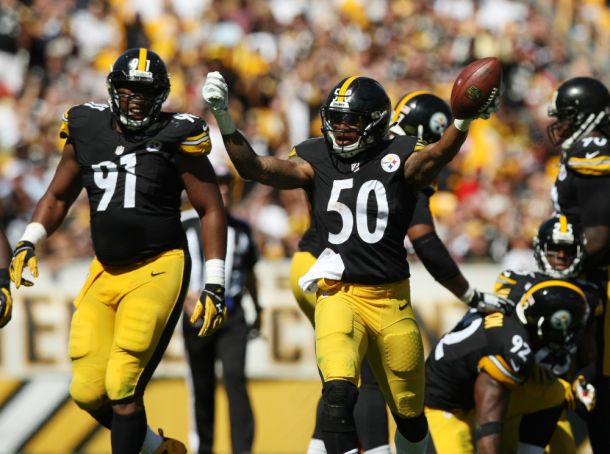 Pittsburgh Steelers fans had a whole lot to be happy about after their 25-13 victory over the Arizona Cardinals. Their feelings could've changed, though, when they saw the injury report. Head coach Mike Tomlin addressed some of the injuries today at a press conference.
Two linebackers who have played well when healthy this season are Ryan Shazier and Jarvis Jones. Shazier has only played in two games the season, while Jones has played in all but one.
Tomlin said, "I imagine (Jones is) going to be well enough this week to participate and the same thing with Ryan Shazier," according to Steelers.com writer Bob Labriola.
The addition of these two would help the defense tremendously. When you consider how good the defense played against the Cardinals without these two, try imagining how good the defense can do against the Kansas City Chiefs if these two were to play.
Another Steelers defensive player who has played very well this year is Stephon Tuitt. He is arguably the second best defensive player on the team, only behind Cameron Heyward. Well, Tuitt sprained his knee against the Cardinals and his health is essential to the team. Tomlin said that he, "saw (Tuitt) walking pretty good yesterday. We'll see what tomorrow holds in terms of his ability to bounce back, or not bounce back. We'll do what's appropriate there," according to Dave Bryan of SteelersDepot.com.
Strong safety Will Allen did not play against the Cardinals because of a left ankle injury. Tomlin did not say much about Allen. "We'll see what participation looks like for him as we push through the week," according to Dave Bryan. Robert Golden played decent against the Cardinals, so the Steelers should be in no hurry to get Allen back on the field, especially against a poor Chiefs offense.
During his press conference, Tomlin also addressed Maurkice Pouncey's health. It had recently been reported that Pouncey needed a second surgery done to his injured ankle, one that would sideline him for the rest of the season. Tomlin denied those rumors, and said that he thinks there is a chance for Pouncey to return to the team some time this season. Cody Wallace has not done bad as Pouncey's backup, but having Pouncey back would be huge for the offensive line.
Ben Roethlisberger really wants to return as soon as possible. As of now, it looks like he'll have to wait until the week eight divisional matchup with the Cincinnati Bengals. Tomlin said that Landry Jones, as of now, will more likely than not be the starting quarterback against the Chiefs, according to Aditi Kinkhabwala of NFL.com.
Finally, there is Kelvin Beachum. The standout left tackle suffered a gruesome-looking knee injury in Sunday's win against the Cardinals. Well, the worst came of the situation, as it was announced that Beachum tore his ACL. Labriola reported that last night, the Steelers officially placed Beachum on season-ending IR. The team signed Byron Stingily, former left tackle of the Tennessee Titans, just for tackle depth. Alejandro Villanueva is expected to replace Beachum as the starting left tackle.
Things are looking great for the Steelers, if they can get healthy. All of these players are key players, and their health could likely make the difference between winning the AFC North, making the playoffs as a Wildcard team, or not making the playoffs at all.