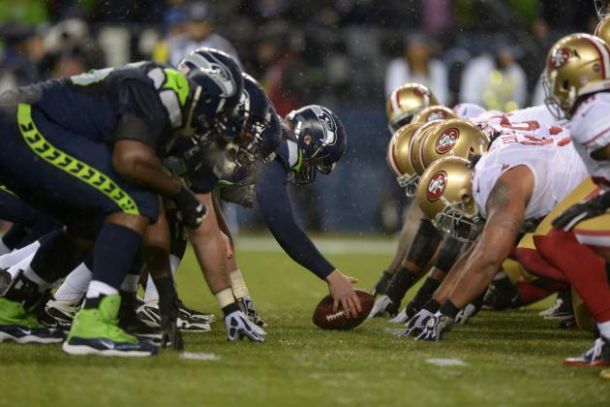 Thanks for joining us and following along for this NFL regular season LIVE. If you feel so inclined, you can follow me, Ben Rosener, on Twitter (@BenRosener). Other than that, follow @VAVEL_USA and @VAVEL_NFL for more fantastic content and enjoy the rest of your day.
For the 49ers, 2-5 is certainly not the best position to be in. San Francisco played well defensively, collecting five sacks and two interceptions. However, the offense couldn't do anything. Colin Kaepernick and company were held to 142 yards of total offense. The Niners will need to play better if they want to improve this season. The team simply punted too often.
​​Big win for the Seahawks. A record of 3-4 is a much better place to be than 2-5. The defense looked like what we're used to seeing from Seattle. Marshawn Lynch had a monster game for the Hawks. 'Beast Mode' ran for 122 yards and a touchdown. Tyler Lockett led the team with 79 receiving yards and a touchdown on five catches. The Seahawks will travel to Dallas to take on the Cowboys next Sunday.
4th Quarter (0:00) Russell Wilson takes another knee and teh game is over. Seattle improves to 3-4 on the season while the Niners fall to 2-5.
​​4th Quarter (1:48) Wilson takes a knee as the Seahawks close out the game.
​​4th Quarter (2:00) Lynch runs for another six yards and a first down. The running back now has 122 yards rushing.
​4th Quarter (2:52) Marshawn Lynch opens the drive with a trademark, physical run. The running back bounced out of a potential pile up to pick up 11 yards.
​4th Quarter (3:13) Bobby Wagner comes flying across to force an incomplete pass. The Niners will punt. Again.
​4th Quarter (3:32) The Niners open up what could be the team's final drive with a seven-yard completion to Vernon Davis.
​4th Quarter (3:53) Wilson tries to thread it in to Jimmy Graham, and the Hawks will punt. Turns out we may see more Colin Kaepernick.
​4th Quarter (4:14) The Niners can't convert after the Boldin completion and punt away. That may be the last we see of Colin Kaepernick and the 49ers' offense tonight.
​4th Quarter (4:34) Kaepernick finds Boldin for a six yard gain.
​4th Quarter (5:34) Wilson is taken down on third down after the Hawks fail to gain much. Jon Ryan on to punt.
​4th Quarter (7:24) Kam Chancellor tackles Reggie Bush on third and 26. The running back is only able to pick up six before he is wrapped up. The 49ers are once again forced to punt.
​4th Quarter (8:48) Kaepernick is brought down for another sack as Brandon Mebane gets in on the fun.
​4th Quarter (9:49) After a sack brings the Hawks back, Steven Hauschka connects on yet another field goal. The kicker hasn't missed a field goal this season. 20-3 Hawks.
​4th Quarter (11:35) The Seahawks call a read option, Wilson keeps it on third and short, running for eight yards and a first down.
​4th Quarter (12:54) Wilson connects with Lockett for six yards.
​4th Quarter (14:00) Wilson swings it out to Fred Jackson. The running back picks up 18 yards and the first down.
​3rd Quarter (0:00) A holding penalty on Seattle center Drew Nowak negates another first-down run by 'Beast Mode.' The third quarter ends with the Hawks up 17-3.
​3rd Quarter (0:45) Lynch picks up nine yards and the first down on a physical run.
​3rd Quarter (1:26) The 49ers can't convert on third and short, Phil Dawson comes on to kick the field goal. Dawson makes it 17-3.
​3rd Quarter (2:50) Kaepernick connects with Anquan Boldin for 27 yards. The Niners are finally starting to move the ball.
​3rd Quarter (3:44) Kaepernick finds Davis for a gain of 27 yards. Cary Williams brings down the tight end.
​3rd Quarter (6:03) Hyde picks up enough yards for a first down, but the Niners are backed up thanks to a holding penalty.
​3rd Quarter (6:24) Wilson overthrows Kearse on a deep throw. The pass is intercepted by Kenneth Acker.
​3rd Quarter (7:33) Kearse hauls in another pass, picking up seven yards and the first down.
​3rd Quarter (8:57) Wilson connects with Baldwin for three yards.
3rd Quarter (9:43) San Francisco can't convert on third down as Carlos Hyde can't pick up the necessary yardage. The running back fumbles, but the 49ers recover. Stop me if you've heard this before, the Niners are forced to punt.
3rd Quarter (11:39) After the Hawks are moved back thanks to a sack and penalty, Fred Jackson runs for two yards as the Hawks fail to convert. Seattle punts it away.
3rd Quarter (14:49) Lynch starts the second half for the Hawks with a 14-yard run. 'Beast Mode' follows it up with a 13-yard rushing gain.
For the 49ers, the home team needs to start doing something differently on offense. Carlos Hyde has had a few good runs, but that's been about it. San Francisco hasn't been awful on defense, but they need to make strides on offense.
In terms of the second half, the Seahawks need to keep doing what they're doing. With the exception of the interception, Russell Wilson has moved the ball effectively and efficiently. The defense has been suffocating as well.
2nd Quarter (0:00) The first half ends with a nine-yard run by Reggie Bush.
2nd Quarter (0:35) Kaepernick is sacked by Cliff Avril for a 14-loss.
2nd Quarter (0:43) Wilson rolls out and trys to fire in a touchdown to Doug Baldwin, but the throw is intercepted
2nd Quarter (0:57) Wilson scrambles and finds Lockett for 12 yards and a first down.
2nd Quarter (1:10) Kearse with another big play, this time hauling in another catch for 36 yards.
2nd Quarter (1:49) The 49ers will punt again after a three and out. Strong showing so far by the Hawks' defense.
2nd Quarter (1:54) Michael Bennett brings down Kaepernick for another sack. The defensive lineman has 2.5 sacks tonight.
2nd Quarter (2:53) Touchdown! The Seahawks capitalize on the penalty as Wilson finds Lockett on a deep pass. The rookie scores on a 43-yard completion . Fantastic pass from Wilson. The point after touchdown is good.
2nd Quarter (3:04) Doug Baldwin nearly picks up a first down on third down, but is short. Seattle benefits from a face-mask penalty.
2nd Quarter (5:02) Wilson hits Jermaine Kearse for a 21-yard gain. Seattle continues to look good offensively.
2nd Quarter (6:33) Kaepernick finds Bush for one yard, but that's it as the Niners punt again.
2nd Quarter (6:34) Just as the 49ers were moving the ball with efficiency, the team can't pick up anything on first and second down, the team is penalized on third down after failing to get the snap off.
2nd Quarter (7:11) After two passes to Bush and Garrett Celek, Carlos Hyde picks up the first down with a five-yard run.
2nd Quarter (9:02) Kaepernick finds Vernon Davis for a 14-yard gain as the 49ers start another drive.
2nd Quarter (10:16) After picking up five yards on the first two plays of the series, Wilson is unable to scramble for a first down, Steven Hauschka hits a long field goal to push the lead to 10-0 for Seattle.
2nd Quarter (12:21) Wilson floats the ball over the defense to an open Jimmy Graham. The tight end picks up 23 yards.
2nd Quarter (13:33) After a Hyde run that loses the Niners four yards, San Francisco is unable to convert on a long third down. The home team punts yet again.
2nd Quarter (15:00) Seattle with some sound defense down the field as Michael Bennett brings down Colin Kaepernick for a five yard loss.
1st Quarter (0:03) Hyde picks up another chunk of yards on the ground. The running back picks up nine on his latest run.
1st Quarter (0:48) The Niners finally get some yards on offense as Carlos Hyde runs for 13 yards.
1st Quarter (1:10) Wilson looks for Jimmy Graham on third down, but the ball is just out of the tight end's reach. Jon Ryan will punt.
1st Quarter (2:38) Thomas Rawls breaks off a 17-yard run to give the Hawks another first down.
1st Quarter (4:00) Russell Wilson scrambles for nine yards and a first down. Seattle continues to move the ball.
1st Quarter (4:47) Thomas Rawls starts the Hawks' drive with two straight two-yard runs.
1st Quarter (6:01) San Francisco with yet another three-and out. The 49ers can't seem to anything on offense so far.
1st Quarter (6:06) The 49ers begin the team's second drive with two plays and two yards. Carlos Hyde runs for two yards before an incomplete pass
1st Quarter (7:05) After an incompletion to Riccardo Lockette, Marshawn Lynch goes over the top of the defense for a touchdown. The point after touchdown is good, 7-0 Hawks.
1st Quarter (7:37) 'Beast Mode' is earning his money today. Another short gain as the Hawks literally inch closer to the endzone.
1st Quarter (8:35) Lynch recieves yet another carry and earns the first down. The running back appears to leap the over the pile and into the endzone, but is ruled down before the goal line.
1st Quarter (9:50) Wilson hands the ball off to Lynch three times as the Hawks enter the redzone. 'Beast Mode' picks up nearly ten yards on the trio of carries as the chains come out. Lynch is just short. Fourth and inches in the red zone, Seattle will go for it.
1st Quarter (11:29) After Lynch's run, Seattle breaks out with two big plays. Lynch shoots through the line to pick up 17 before Russell WIlson finds Tyler Lockett for a 23 yard gain.
1st Quarter (13:20) Marshawn Lynch starts the Hawks first drive with a five yard run.
1st Quarter (13:47) Reggie Bush drops an easy catch that likely would have given the Niners a first down. Solid defensive series by the Hawks. San Francisco punts.
1st Quarter (15:00) Steven Hauschka kicks off for a touchback after the Seahawks deferred.
San Francisco Injury Report: Tackle Erik Pears (back), Boldin (hamstring) and running back Carlos Hyde (foot) are all listed as questionable. Guard Alex Boone (shoulder), linebacker Navorro Bowman (shoulder), linebacker Ahmad Brooks (shoulder), running back Reggie Bush (calf), tight end Vance McDonald (chest), safety Eric Reid (chest), tackle Joe Staley (knee) and guard Brandon Thomas (ankle) are all probable.
Seattle Injury Report: Defensive end Demarcus Dobbs (shoulder) is questionable while cornerback Marcus Burley (hand), center Patrick Lewis (ankle), defensive lineman Jordan Hill (quadriceps) and Moody (ankle) have all been ruled out for the game. Tackle Gary Gilliam (ankle), guard Justin Britt (hip), Wagner (pectoral), running back Marshawn Lynch (hamstring), safety Kam Chancellor (shoulder), wide receiver Tyler Lockett (hip), defensive ends Frank Clark (hamstring) and Cliff Avril (ankle) as well as cornerbacks Sherman (ankle) and Tye Smith (hip) are all listed as probable.
Russell Wilson could be in for a big game. Past quarterbacks such as Ben Roethlisberger, Carson Palmer and Eli Manning have shredded the Niners' defense. Each of the three had at least 300 passing yards and a pair of touchdowns in their respective games against San Francisco. Wilson could also do some damage with his legs. The Seahawks' quarterback already has 251 rushing yards this season, and has topped 40 rushing yards in three games this season. The Niners' defense has allowed 617 rushing yards and six touchdowns on the ground this season. Both are in the bottom half of the league.
At times this season, Seattle has struggled defensively. Those struggles should end this week with linebacker Bobby Wagner slated to return. The defensive stalwart is listed as probable on the injury report. His return would provide a massive boost to the Hawks' chances. Not only would his return allow K.J. Wright to shift back to the outside, but it would give Seattle more linebacker depth. Backups Nick Moody and Brock Coyle are both set to miss the game.
It will be interesting to see if 49ers receiver Anquan Boldin can continue his recent run of success. The pass catcher has 13 catches for 209 yards and a touchdown over his last two contests. During that two-game span, the veteran topped 100 yards in both games. Boldin will be matched up with both Richard Sherman and Cary Williams. Sherman remains one of the league's best defenders while Williams got burned at times against the Bengals and Panthers. Depending on the matchup, Boldin could thrive or struggle for targets.
San Francisco has struggled mightily at times this season, allowing opposing offenses to post gaudy numbers. Case in point, the Pittsburgh Steelers and Arizona Cardinals combined to score 90 points against the Niners in Weeks 2 and 3. Despite this, the Niners have been surprisingly effective at home. They trumped over the Vikings in Week 1 and defeated the Ravens in Week 6. In the team's other home game, they lost to the Packers, but held Aaron Rodgers to a pedestrian 224 yards and a touchdown.
This is a must-win game for the Seahawks. With a win, the Hawks would improve to 3-4. While it's not where Seattle wanted to be, 3-4 is much better than a potential 2-5 mark. If the Hawks can win on Thursday, they have the potential to get on a role. In Week 8, they travel to face the Dallas Cowboys in a winnable game. Following that game, the Seahawks begin a three game homestand in which they will take on the Arizona Cardinals, these San Francisco 49ers and the Pittsburgh Steelers. If the Hawks can win, they'll put themselves in a good position moving forward.
This is also the third time the 49ers have played in primetime this season. San Francisco beat the Minnesota Vikings 20-3 on Monday Night Football in Week 1 and lost to the New York Giants in Week Six by a score of 30-27. The team will play one other game in primetime this season. The 49ers host the Cincinnati Bengals on Sunday Night Football during Week 15.
For the Seahawks, Thursday will mark the team's third primetime game. Seattle lost to the Green Bay Packers in a Sunday Night Football matchup. In addition to that game, the Hawks beat the Detroit Lions on Monday Night Football. In terms of the rest of the season, the Seahawks will host the Arizona Cardinals in Week 9 before later traveling to Maryland to take on the Baltimore Ravens in Week 14. Both games will be on Sunday Night Football.
Welcome to VAVEL NFL's LIVE coverage of the 2015 NFL Regular Season Week 7 matchup between the Seattle Seahawks and San Francisco 49ers. My name is Ben Rosener, and I'll be playing the role of typist/pundit/commentator, or whatever term you like. I will be providing minute-to-minute updates, commentary and results of the game. Kickoff is scheduled for Thursday night, October 22nd at 8:25 pm EST at San Francisco's Levi's Stadium.