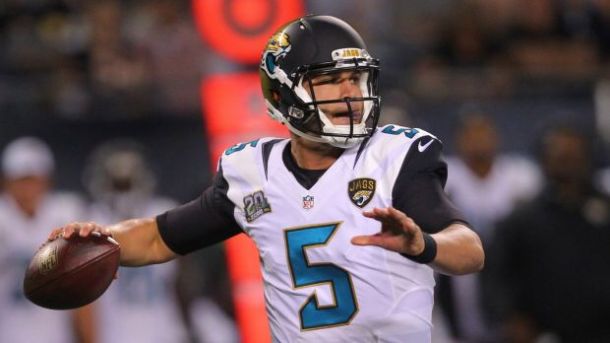 From Oviedo to Orlando to Jacksonville, quarterback Blake Bortles is Florida born and raised. Therefore, when the Jacksonville Jaguars selected the University of Central Florida product with the third overall pick in the 2014 NFL Draft (first QB taken), the city finally had a leader it could rally around. However, after possessing a 3-10 record in his first NFL campaign while being intercepted 17 times in contrast to 11 touchdowns (2,908 passing yards), some impatient fans were already regretting General Manager David Caldwell's decision to pass on Teddy Bridgewater, the eventual 32nd overall pick by the Minnesota Vikings.
Compared to Bortles, Bridgewater led his team to a 6-6 mark in 12 starts with 14 touchdowns, 12 interceptions, and 2,919 passing yards during his first NFL season. Significantly better right? Definitely! In fact, an article on NFL.com had the Houston Texans drafting the former Louisville Cardinal, instead of Jadeveon Clowney, in a 2014 NFL Draft "do-over."
Interestingly enough, in the same piece, analyst Bucky Brooks re-selected Bortles for Jacksonville with the third pick. Did he know something everyone didn't?
Seems so, as to start the 2015 season, the 2014 Fiesta Bowl Offensive Most Valuable Player has thrown 13 touchdowns to 7 interceptions (Bridgewater has 3 TD/4 INT) while on pace to surpass 4,000 passing yards this season! And the most impressive part? He has two more touchdowns than his rookie total despite playing only six games! Six games!
Stats aside, Bortles has admitted, "I'm kind of night and day from a year ago" due to significantly improving mentally and physically. Additionally, more repetitions behind center coming into the regular season (in 2014 Chad Henne came into Week 1 as starter) has to taken be into consideration when the topic is the development of the 2013 American Athletic Conference Player of the Year.
While the Jaguars' record is once again anemic (1-5), "Bort and the Boys" are much better than their win total indicates. In fact, Jacksonville would be 3-3 if kicker Jason Myers would have made just one of his three fourth quarter/overtime field goal attempts (one try was unofficial due to a penalty) versus Matt Hasselbeck's Indianapolis Colts, and if their defense could have stopped the Tampa Bay Buccaneers from producing ten points in the final 18:44 of Week 5's intra-Florida showdown.
Nonetheless, with the Jaguars most likely heading to their fifth straight NFL Draft with a top-5 pick or better, the one position the team clearly has no need to fill is quarterback, because Blake Bortles has the talent and potential to be playmaker for a very long time.