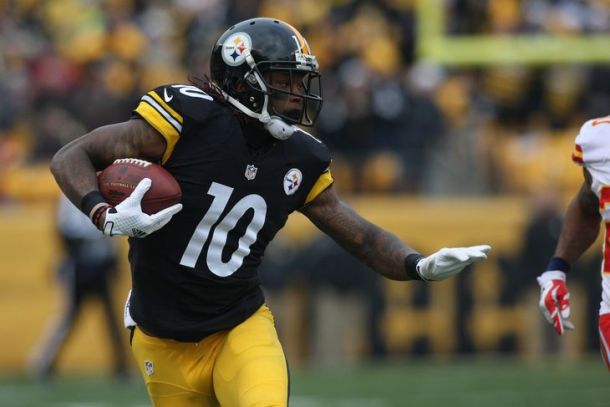 The Pittsburgh Steelers have somehow survived their first three weeks without their franchise player Ben Roethlisberger. Without the two-time Super Bowl champion quarterback, the team is 2-1, and they could easily be 3-0 if they would've signed a new kicker sooner. The timing is nice right now for the Steelers, who will be playing their last game without Big Ben against an injury-stricken Kansas City Chiefs team.
Last week we saw third string quarterback Landry Jones enter the game after Mike Vick suffered an injury and throw for 168 yards and two touchdowns. This week, Jones will play the whole game (his first NFL start) as Roethlisberger isn't quite ready yet and Vick is sidelined with his hamstring troubles. In case anything would happen to Jones, the team announced that they have promoted the quarterback/wide receiver Tyler Murphy to the official 53 man roster.
Martavis Bryant's freakish athleticism boosted the offense last week. Antonio Brown hasn't had much success without Big Ben, as teams prepared only for him. Now, with Bryant in the mix, Brown could finally return to his usual self, especially with Jones being a better thrower than Vick. The offensive line will need to play well because the Chiefs have some good pass rushers on defense in Dontari Poe, Tamba Hali and Justin Houston, though the first two are questionable due to injuries. Still, without their two best players, the line will need to protect Jones and make holes for running back Le'Veon Bell, who will likely have another great game.
The defense did a great job last week in holding the NFL's top scoring team to just 13 points. Still, the defense gave up a lot of yards and several big plays. Luckily, the Jamaal Charles-less Chiefs don't have an offense near as good as the Arizona Cardinals. There were three forced turnovers last week and a lot of pressure on the opposing quarterback, two areas that the Steelers will need to be successful in again this week. Stephon Tuitt is out, so the pressure on the quarterback may not be great, but Ryan Shazier is returning and he will be making plays all over the field per usual.
If Ben Roethlisberger would make a surprising return (he is officially listed as questionable), the Steelers would be in a prime position to defeat the Chiefs. Even if he doesn't play, Jones showed last week he is good enough to get the job done. The Steelers just have too many offensive weapons for the Chiefs to keep up with.
The only weapons Kansas City has on offense the Steelers have to deal with is tight end Travis Kelce, as Charles is out and wide receiver Jeremy Maclin may not play due to a concussion. Though the Steelers defense isn't elite, they have the personnel to contain Kelce, which should secure a victory for the team. As long as no one else suffers a major injury, the Steelers will be able to carry their momentum from this game into the week eight showdown with the Cincinnati Bengals.