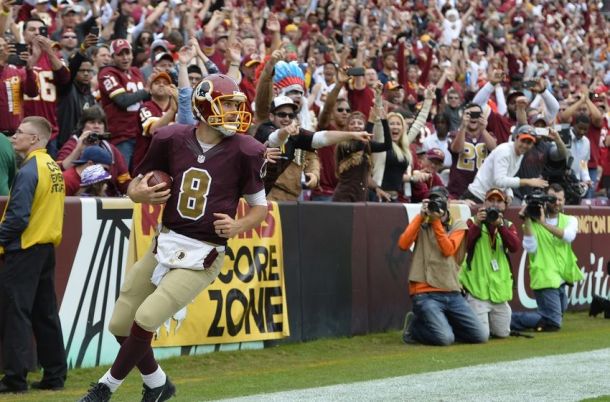 LANDOVER, Md. -- Kirk Cousins engineered an 80-yard game-winning drive in under two minutes, hitting Jordan Reed up the middle for a six-yard touchdown connection to power the Washington Redskins to a miraculous 31-30 home victory over the Tampa Bay Buccaneers at FedExField.
Cousins completed nine of eleven passes on the final drive and found Reed for the final score with 28 seconds remaining in the fourth quarter. The quarterback played admiral of the Redskins' offensive fleet, throwing for 317 yards and three touchdowns while running in another score to help Washington overcome a second-quarter 24-0 deficit and sink the Bucs.
Tampa Bay had the lead early, as Jameis Winston locked on to Mike Evans for a 40-yard scoring connection on the team's first offensive series to make it 7-0 just three minutes in.
Evans was on the receiving end of eight passes Sunday, exploding for 164 yards and the score in Tampa's loss.
On the Buccaneers' next drive, Louis Murphy caught a 29-yarder to bring Tampa Bay into Redskins territory. However, Murphy came down with a knee injury during the play and would not return. Connor Barth knocked in a near chip shot from 22 yards out to cap the drive and put his team up 10-0 by the end of the first.
Winston surged downfield starting with three minutes to go in the first, orchestrating a 15-play, seven-minute drive that ended in a seven-yard touchdown reception by Donteea Dye. That made it 17-0, with Tampa Bay putting points on the board with each of their three first drives.
The first-overall pick in the 2015 NFL Draft threw for 297 yards and two touchdowns on the day, not contributing any interceptions in a rare efficient performance for him.
Washington on the subsequent series got into Buccaneers territory on a 21-yard connection between Cousins and Pierre Garçon, yet Jacquies Smith strip-sacked the 'Skins' QB three plays later and the resulting fumble was taken all the way to the house for a 43-yard scoop-and-score by linebacker Howard Jones.
Cousins answered on the Redskins' next possession, connecting on all four of his passes and driving Washington down to the eight yard line in four minutes. The 6'3" quarterback barreled into the endzone from eight yards out to put his squad on the board and cut the deficit to 24-7.
That score would stay until halftime, an interval one could definitely consider the turning point of this game. After a stop by Washington's defense, Cousins took the 'Skins on consecutive 60-yard and 51-yard scoring drives to lessen the lead to just three points.
Both TDs were three yard connections through the air, starting with a catch by former-Packers running back Ryan Grant and then followed up by Jordan Reed's first score of the day. The injury-prone tight end finished with 72 yards and his pair of touchdowns on eleven receptions.
The two sides traded field goals from Barth and Dustin Hopkins on each's next possession, and Barth struck his foot through another to put Cousins under the spotlight down 30-24 with 2:24 remaining.
Cousins worked his way downfield with ease, hitting Matt Jones, Reed, Andre Roberts, Garçon, and Jamison Crowder on a vast variety of sets before hitting Reed a final time in the endzone to tie it up. The crucial PAT was good from Hopkins.
On Winston's desperate attempt in the last 24 seconds, a completion to halfback Charles Sims took the Buccaneers into Redskins territory, but Chris Baker recovered a Sims fumble to set up one final kneel for Cousins to seal Washington's comeback triumph.
Doug Martin finished the day with 136 yards on 19 carries for the Buccaneers in a somewhat split-backfield with Sims.
Tampa Bay now drops to 2-4 prior to their face-off with the Atlanta Falcons. Washington is now 3-4 and will play the undefeated New England Patriots in two weeks after their upcoming bye week.
Note: Washington's Ryan Kerrigan was taken out for the majority of the game after sustaining a first-quarter fractured hand.