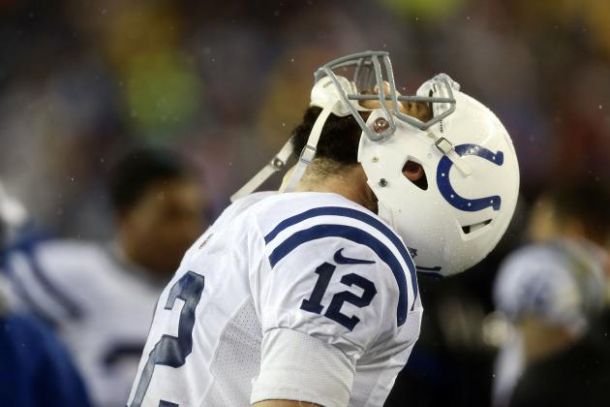 Remember that picture shown above? It's one of the last pictures of Andrew Luck and the Indianapolis Colts last season on their way to being embarrassed in Foxborough to the New England Patriots. Now lets fast forward to where we are now this season.
The Indianapolis Colts are currently 3-4 on the season, and that's almost a miracle. All three of their wins came out of their own division in the weak AFC South, which is why the Colts still hold down the number one spot in the division. But the Colts shouldn't be satisfied with that. You could argue the Colts could very well be 1-6 right now if the Jacksonville Jaguars could hit one field goal at the end of regulation, or the Tennessee Titans don't have an absolute collapse at home in the fourth quarter.
The Colts were chosen by many to be an "unstoppable offense," a team that could set unprecedented records for passing yards and touchdowns, and most of all, they were selected to go to the golden anniversary of the Super Bowl and win it all, capturing the franchise's second championship in the last decade, but its been the exact opposite.
This offseason, Colts general manager Ryan Grigson and head coach Chuck Pagano decided to look for veterans on offense to team with the young Andrew Luck and be content with the offensive line. He went out and signed guys like running back Frank Gore and wide receiver Andre Johnson, two soon to be Hall of Famers. Another key addition was former Philadelphia Eagles defensive end/outside linebacker Trent Cole. To say the least, all of them have been a disappointment this season. Lets take a look at their production this season.
Frank Gore is the all-time leader in rushing yards and touchdowns in San Francisco 49ers history. He's been a bell cow for his entire career in the NFL and he's one of the most feared runners the league has ever seen. He's also known as one of the best blocking backs in the league every year. He's as tough as they come. While Gore has had a pretty good showing so far (averaging over 4.6 yards per carry and is on pace for another 1,000 yard rushing year), he's had his moments of bad play. For Gore's career, he averages just about three fumbles a season. Seven weeks into the season, Gore already has two fumbles (lost). That's very uncharacteristic for him. He's got to be more careful with the football for the team to be more successful.
Andre Johnson is the all-time leader in receptions, receiving touchdowns and receiving yards in Houston Texans history. Andre Johnson was the "Megatron" before Calvin Johnson. The mix of size, speed and catch radius made it a nightmare for opposing defenses to gameplan for him. For his career, he's played for sub-par quarterbacks to say the least. Guys like Matt Schaub, Ryan Mallett, and David Carr to name a few. And he's still been able to put up a Hall of Fame career. This was supposed to be the year he's finally had a real quarterback and show what he can really do on the field, but it just hasn't gone that way.
Andre Johnson is only averaging about 10 yards per catch on three catches a game. That's about 30 yards per game on three catches for a guy that for his career averages about 65 yards per game on six catches. Well you may say, he's not been targeted enough. You're right, he's only been targeted 37 times this season, compared to T.Y. Hilton's 74 targets. But, there's a reason why. Out of those 37 targets, he has caught only 20 of them. While that may not be that bad, majority of those completions came in the sole game he played great in, which ironically was against his former team in the Texans.
Johnson has just been very sluggish on his release and hasn't been able to break away from quicker corners like he used to. When Andrew Luck targets Johnson, Luck has a terrible 7.4 total QBR with only 10 catches and four interceptions. That's just not going to cut it if this team wants to be better.
Trent Cole is one of the best defensive ends of our era. He has 85.5 total sacks for his career, 10th among active players. He's nicknamed "The Hunter" for his ravenous attitude for sacking opposing quarterbacks. He averages about eight sacks per season for his career, but this year he doesn't have a single one. Yes, you read that correctly. He has zero sacks on the season. That is atrocious. Robert Mathis is coming off an Achilles injury has played in half the amount of games and has already registered two sacks. He's too good of a player to be held without a sack so far this season. The Colts pass rush has suffered dearly with his lack of production and without him stepping up, it's going to continue to be a long season for the Colts defense.
And now, Indianapolis' star quarterback Andrew Luck and the offensive line. Coming into the season, Luck was known as the best young quarterback in the NFL. In his three seasons, Luck has three consecutive 11-5 records, he's a three-time Pro Bowler, he has three playoff wins under his belt, and every single year he gets better and deeper into the playoffs. Last year, he led the NFL in passing touchdowns with 40. However, this year is it possible that he's the reason the Colts look so bad. So far this season, Andrew Luck has completed 56 percent of his passes and has thrown 11 touchdowns to nine interceptions. That's good enough for the third-worst passer rating in the NFL at 76.7.
Yes, you may say he's throwing so many interceptions because of the pressure the offensive line is allowing. Your partially correct. To say the offensive line has been disappointing in pass protection is an understatement. Indianapolis is the fifth-most penalized team in the NFL with 56, and 16 of those penalties come via offensive holding, which is the most in the entire league.
Arguably the best lineman on the team Anthony Castanzo, who just signed a four year, $43 million dollar deal in the offseason, leads the NFL in offensive penalties. It's almost routine to see a huge Colts play get called back almost every time because of a penalty to the offensive line. When you constantly put your team in 1st and 15 or 1st and 20 situations, it's hard to overcome that because defenses know a pass at some point is coming and they will go all out to pressure the opposing quarterback.
When Luck is under pressure, he has thrown five interceptions. But what about the other four miscues? It comes down to his decision making. Luck just has not been good this year. His poor decision making on the field this year has cost his team dearly. The holes he digs the team into during the game are just too much to overcome when it's all said and done. It's almost like he's doing too much. Luck need to get the ball out quicker and check down to his running backs if a play breaks down. Instead of extending a play and taking a sack or force a turnover, Luck has to throw the ball away and live to play another down.
It's no secret that Luck has been dealing with a shoulder injury that forced him to miss two games, however, that excuse for poor play can only be used so much.
In the end, this team will only go as far as Andrew Luck leads them. In years past, it's been Luck propelling this team to higher ground. And opposing teams are now aware of that so they are bringing the pressure every game. This is a team game that has chain reactions. More times than not if the offensive line plays bad, the quarterback and running back will have a very tough game. When the quarterback is off his game, that causes the timing with wide outs to be a little off forcing incompletions and in worse cases, interceptions. That leads to putting your defense in very bad spots trying to stop teams with good field position, and when you have all of that going wrong, that puts all the coaches and team personnel on the hot seat.
Indianapolis still have enough time to get this team on the right path. The 2007 New York Giants had a similar season and they got it right at the right time, finishing the season at 10-6 and went on to win Super Bowl XLII. If the Colts want to repeat something similar to that, they just are going to have start playing better football or sorry to say, it will lead to a very early offseason for a few personnel.